Conduit and Cable Protection You Can Depend On
Our PUB (Protection Under Bridge) systems are designed and installed to protect your utility investment long-term. To put your mind at ease, we offer First Line fire blankets. They not only protect against fire damage (up to 3,000°F), but they also protect against vulnerabilities such as vandalism and theft.
Unprotected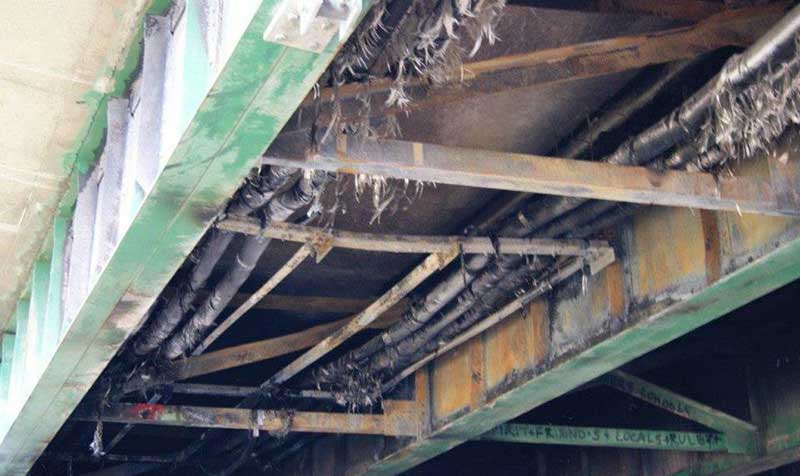 Protected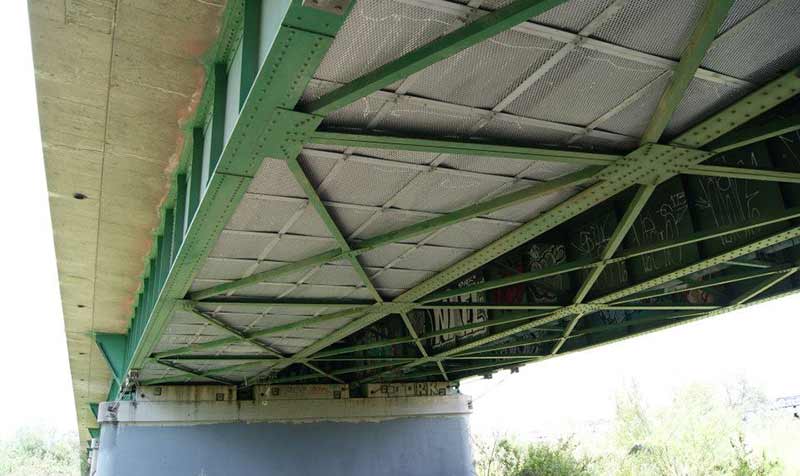 Protection from Vandalism & Fire Damage
The devastation in the photo in the above left shows a heavily trafficked area of San Diego. This grouping of utilities is actually a run of electrical conduit which feeds downtown. The destruction you see is due to a fire from a transient camp. A fire was set and it burned up a large portion of the conduit run. By installing First Line Fire Blanket as well as the vandalism protection cage, we were able to keep this from happening again.
First Line Fire Blankets
Quick Facts
| | |
| --- | --- |
| Continuous operating temp: | 500°F (260°C) |
| Max short-term exposure: | 3000°F (1650°C) |
| Molten splash resistance: | Outstanding |
| Weld spatter resistance: | Outstanding |
| Flame resistance: | Outstanding |
| Abrasion resistance: | Outstanding |
| Flexibility: | Very Good |
| Water and oil resistance: | Excellent |
| Colors: | Silver Titanium |
| Weight: | 106 oz / yd |
Constructed from a densely wover E glass fiber, the base fabric offers high insulation and resistance to thermal conductivity. The silver titanium-colored silicone rubber coating is completely flameproof and waterproof. Formulated by Insulflex®, the coating transforms into a titanium silicate refractory crust upon exposure to severe flame - creating an inpenetrable, flame-proof barrier.