Winter is coming. It's never too soon to start planning for weather events ahead.
In this article, we'll take a look at how bridge and road maintenance crews across the United States are preparing for winter.
Arizona
Most people think of Arizona as a hot and dry place, where people go to escape the winter.
The reality is much different. Coconino County, located less than 150 miles north of Phoenix, is the fifth snowiest location in the United States, averaging more than 100 inches of snow per year.
Winter in Coconino County, Arizona
Combating this snow, which falls from November through April, presents unique challenges. It's the second largest county in the country, and the public works team is responsible for maintaining more than 1,000 miles of roads and bridges in some wild terrain.
The county is between 4,000 and 8,000 feet above sea level, which means winter temperatures can get extremely cold. This can affect the performance of equipment and operators. In addition, the area experiences the most extreme freeze-thaw cycles in the country, where snow melting and freezing can do significant damage to roads and bridges.
To meet these unique challenges, the county has developed its current snow plan in a smart and cost-effective way. It's designed to maximize the department's limited resources by focusing on the area's most highly impacted areas.
The plan has been named "Right Place, Right Time." It works dynamically, responding to individual storms, considering weather patterns and the locations of actual, plowable of snow. This keeps drivers safe, while avoiding using resources in a wasteful way.
Minnesota
More than 150 snowplow operators from all over Minnesota spent the end of September and part of October at Camp Ripley near Little Falls, learning how to safely and efficiently clear snow and ice from bridges and roads. The majority were from the cities of Minneapolis, St. Paul, and Rochester, although operators from across the state were represented.
The Snowplow Operator Training Program (SPOT) provides operators with information about safe, contemporary plowing techniques and best practices. It also offers updates about new equipment, policies, and procedures.
Attendees received training on MnDOT's Maintenance Decision Support System and Automated Vehicle Location Technology, which provides them with weather and road information so they can make better decisions about whether to use sand or salt on roads and bridges and how much.
Did you know: Minnesota has 1,500 snowplow operators who clear 30,000 lane miles of highway roads and bridges each winter?
Ohio
In Lake County, Ohio, snow and ice make traveling a section of highway I-90 extremely dangerous.
This part of Ohio typically experiences more than 100 inches of snowfall annually. Lake-effect snow can drop more than one inch of it per hour, with little or no warning.
Over a 10-year period, more than 800 winter crashes happened on this stretch of road. In 2016, an extreme band of snow contributed to a multiple car and bus pile up of more than 50 vehicles.
In order to prevent future crashes on this stretch of bridges and roads, officials passed special legislation that reduced the speed limit from 70 to 60 miles per hour during snow season. The speed limit can be dropped in 10-mile-per-hour increments as weather conditions worsen. A special education program alerted the public to the changes, and an additional person was hired to monitor the system.
During last year's winter weather season, there were no multi-car incidents reported on the corridor. Despite the positive results, officials continue to look for ways to make improvements for the winter ahead, including posting speed limit changes on social media and displaying the current limit on the Ohio Department of Transportation's app and website.
A long-term goal is to have current speed limits transmitted directly to connected vehicles using a wireless signal.
Washington, D.C.
When it comes to planning for plowing of bridges and roads, it's standard to anticipate resource needs based on historic averages.
However, few winters are "average," especially in this era of extreme weather.
This was especially true In Washington, D.C., in January 2016. That's when a snowstorm lasting three days hit the city. The storm, known as Snowzilla, left behind between 19 and 24 inches of snow.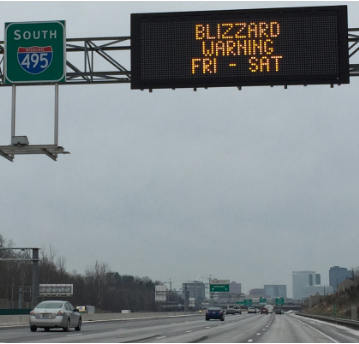 Automated signs near Washington, D.C., warned drivers of the impending Snowzilla.
According to weather experts at the Washington Post, the average annual snowfall in the District of Columbia is just over 15 inches. The vast majority of snow events are typically under five inches.
Clearing extreme snow in Washington is particularly challenging, because:
It's home of the large federal government bureaucracy.

It's densely populated.

Almost a half million people commute there for work daily.

It is difficult to find places to truck and store snow.
Traffic and congestion are big problems in Washington most days. Adding roughly two feet of snow over a limited period of time makes things much worse.
An added complication impacting the Snowzilla storm was that leadership in the city's Department of Public Works was new, and the city's plowing equipment was in poor shape.
City leaders recognized that the challenges they faced during the storm presented an opportunity to improve how they remove snow and ice from bridges and roadways. The city undertook a study and found that coordination, reporting, and equipment readiness were key areas for improvement. They were addressed when planning for the next year's winter weather season, using best practices from across the country.
Highlights include:
A dashboard was developed that logs in requests for service, dispatches equipment, monitors when routes are completed, and reports on conditions.

Processes and procedures used in the Snow Command Center were analyzed and streamlined to optimize the service they provide.

Additional equipment was leased to increase snow and ice removal capacity on bridges and roads.
The last two snow seasons have been light ones in the nation's capital. Based on early predictions, this could be the first year the changes will actually be stress tested.
Iowa
The Iowa Department of Transportation (IDOT) plans to hire an additional 600 maintenance workers to help clear the state's bridges and roads this winter.
In addition, the agency's website is offering an in-depth series of safe winter driving ideas, along with information of what to expect — and how to drive safely — in different road conditions.
Added bonus: IDOT provides a blog that shares what a day in the life of a plow operator is like during the winter. It helps humanize the people behind the big machines and build connections with the community.
Leverage the advanced ideas and proven procedures in this article to improve the ice and snow removal plans for bridges and roads in your area.