Bridges are a part of your everyday life; you work around them frequently and safety is a huge concern for you and the people you work with.
Risks associated with bridges are increasing — why? Due to national and local budget cuts, an unprecedented number of bridges in the United States are far past their prime and have been declared structurally deficient or obsolete. In addition, 228 bridges on average fail each year. Competitive bidding is forcing engineers and contractors to build bridges at lower costs, making it harder than ever to protect workers on bridge construction sites.
Another risk? Bridges are often used as conduits to get utility lines across major roads, chasms, and waterways. If utility lines are breached during a bridge failure or construction-related accident, they can cause injuries to workers, drivers, and pedestrians and significantly impact the people in the communities on either end of the bridge.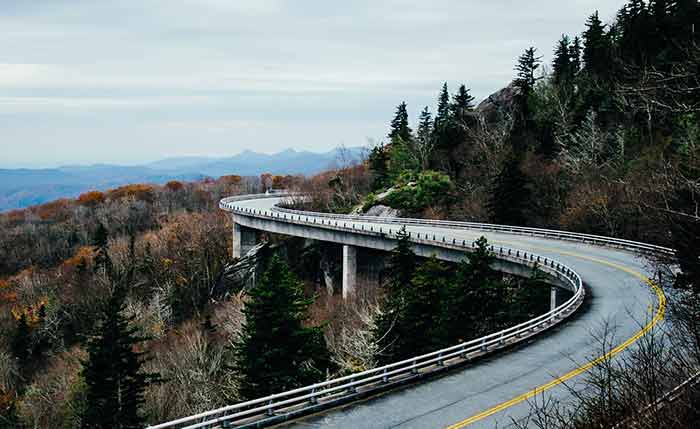 Today, bridge designers, engineers, inspectors, construction companies, and maintenance personnel must scramble to get creative, stretch dollars, learn from past mistakes, and apply new ideas to maintain and build sound bridges and keep construction sites safe.
In this article we'll provide an overview of the types of bridge-related risks you, your co-workers, and the general public face each and every day, along with what engineers, bridge designers, contractors, maintenance workers, government agencies, and others are doing to make them safer.
Bridges by the numbers
According to data from Statista.com, the state of Texas alone has more than 50,000 bridges, and the top 10 states with the highest number of bridges each have more than 20,000. That is a great deal of bridge infrastructure that must to be inspected, maintained, and rebuilt on a regular basis.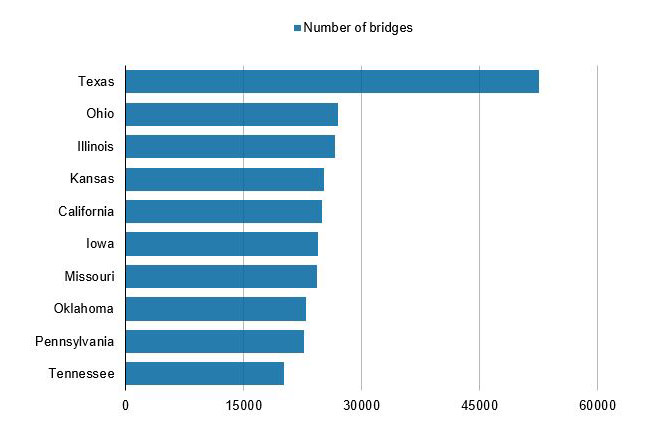 Age of bridges
U.S. and state governments have cut back on bridge construction in recent decades. This chart uses data from the Federal Highway Administration to show when the bridges that we travel on every day were built. The vast majority are more than 20 years old. This is a big concern because old bridges are more likely to have structural deficiencies and be obsolete. In addition, they don't have the safety features that engineers build into modern bridges.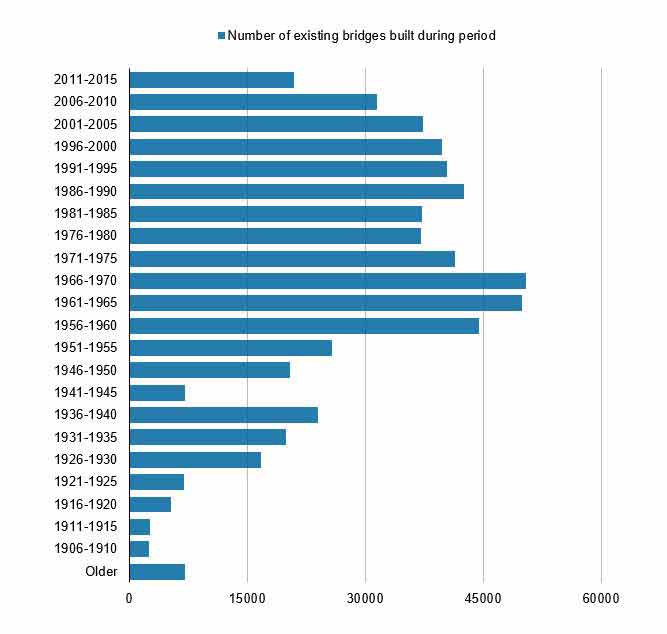 What does it mean for a bridge to be considered structurally deficient? It means that the condition of the bridge is poor and has at least one significant defect that requires special speed or weight limits to ensure safety. In order to be declared structurally deficient, a bridge must earn a score of four or lower on this nine-point scale:

The following chart shows the number of bridges currently considered deficient, organized by the year they were built. More than 50,000 bridges — or approximately one out of 10 — have issues big enough to have speed, weight, or other limits placed on them.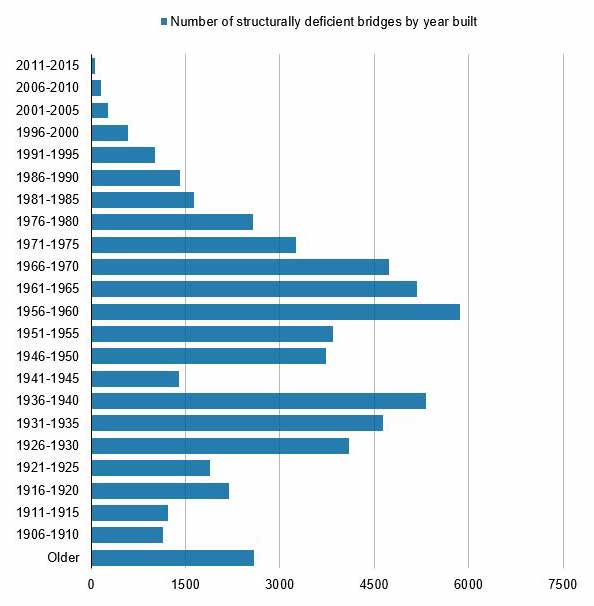 Even more concerning is the number of bridges considered obsolete. "Functionally obsolete" means that the design of a bridge is not suitable for its current use. It could lack things like safety shoulders or be unable to handle current traffic volume, speed, size, or weight. There are actually more obsolete bridges than unsound ones.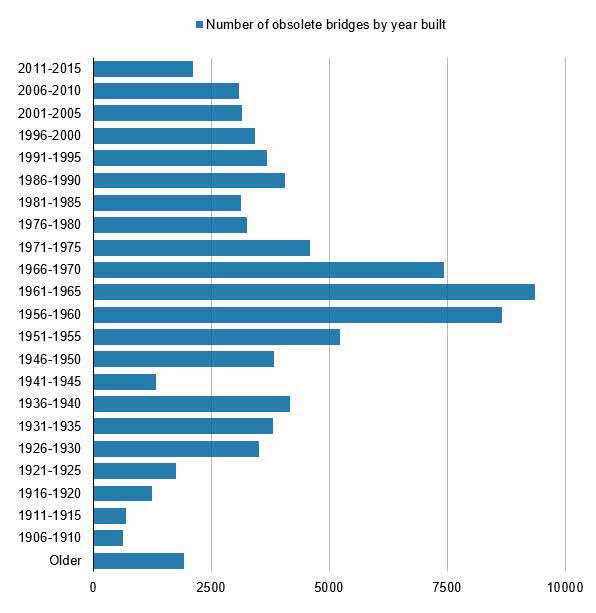 Protecting the public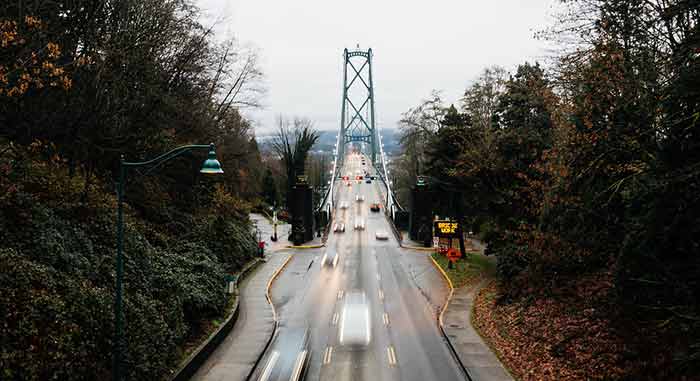 So, what is being done to protect the public and people who work on and around bridges from risks related to today's old and decaying bridge infrastructure? Here are a few ideas currently under discussion, consideration, or being implemented.
Adopt consistent bridge-inspection programs — including setting standard condition levels and recommendations for corrective action — across federal and local agencies. This will allow for consistent reviews and recommendations for all bridges in all localities. Today, ratings and reviews can differ by location, which leads to confusion, inconsistent standards, and inefficiencies. A bridge considered safe in one area might be rated deficient in another.
Establish national performance measures for all highway bridges, no matter the agency or entity that owns or runs them. This will encourage better bridge maintenance and construction funding and spending decisions.
Pool bridge maintenance and development dollars from all sources so they can be allocated effectively. Today, limits placed on how dollars from different agencies can be spent prevent certain maintenance from taking place, even though there could be dollars to pay for it sitting unused in the wrong budget.
Shift the focus from "worst first" bridge maintenance to doing the right maintenance activities at the right time. This will keep more bridges in good condition and prevent them from falling into disrepair. In the end, it's cheaper to do regular maintenance on a bridge than a complete overhaul or to construct a new one.
Get the right people to do the right jobs. Inspectors should be focused on inspections and not distracted by maintenance duties. And people doing maintenance work should be skilled at their jobs and smart and savvy enough to recognize safety concerns. Hiring the lowest-level, lowest-cost employee no longer makes sense in today's risky environment.
Work more closely with utility companies to better understand the risks associated with crossing utility lines, so they can be reduced.
Now, let's look at what engineers are doing to leverage knowledge gained from previous bridge failures to build better and safer bridges.
Bridge failures
A statistical analysis from Utah State University reveals that in a typical year, an average of 228 bridges in the United States fail. That means approximately one out of every 4,700 bridges could collapse each year.
Why do bridges fail? Here is a list of common reasons, examples of each, and what the industry is doing to avoid similar failures in the future:
Reason

Examples

What the Industry is Doing

Unexpected effects of natural forces
The force of the Loma Prieta earthquake in 1989 caused the partial collapse of a segment of a traffic lane on the San Francisco-Oakland Bay Bridge.

It collapsed because of unexpected out-of-phase movements of the bridge's supports as the earthquake's seismic waves traveled along the bridge.

Design standards now have requirements that ensure structural continuity between the bridge superstructure and its supports.
Carelessness or accidents
The destruction of the original Sunshine Skyway in Tampa, Florida in 1980 was caused by a ship running into one of its piers.
Today, piers in waterways must be surrounded by strong protective barriers.
Fatigue and brittle fracture of structural elements and connections
The Interstate 35W bridge in Minneapolis collapsed into the Mississippi River in 2007 because a metal plate was too thin to serve as a junction to several girders.

The bridge lasted 40 years, but over time, the weight it carried increased, finally causing it to fail.

Engineers are constantly working to find newer and better ways to build bridges using improved materials and connectors.
Decay from cracking or corrosion related to inadequate maintenance
The Silver Bridge, which connected Point Pleasant, West Virginia and Gallipolis, Ohio over the Ohio River, collapsed in 1967 during rush hour. The cause was the failure of a single eyebar in a suspension chain due to a small defect.

Analysis showed that the bridge was carrying much heavier loads than it had originally been designed for and had been poorly maintained.

Today, inspectors and maintenance workers are better trained on how to spot dangerous levels of fatigue, brittle fracture, cracking, and corrosion and to report them so they can get fixed quickly.
Unseen and unknown hazards
The failure of the Firth of Tay Bridge in Scotland in 1879 during a windstorm revealed that bridge designers had not considered the effects of wind forces on the structure.

The collapse during construction of the Quebec Bridge over the St. Lawrence River in 1907 showed that designers had miscalculated column strength.

The West Gate Bridge in Melbourne, Australia collapsed in 1970 because it used stiffened panels welded from thin steel plates that were stressed beyond their capacity.

More often these days, bridge designers use modeling software prior to construction to help them identify design flaws that they might not have recognized in the past.
Construction-related failures
Many bridge collapses happen when they're under construction, often leading to injuries and deaths of construction workers. In fact, two of the most recent OSHA construction incident reports involved accidents on bridge construction sites.
The first took place on Monday, Jan. 19, 2015 near downtown Cincinnati. The center and east spans of a ramp bridge being demolished suddenly fell 15-20 feet onto the I-75 south freeway. In this incident, one construction worker was killed and another was injured. At the time, a concrete slab was being removed as part of the bridge demolition process, which had started one day prior to the incident. It was stopped due to concerns about some steel girders lifting off their bearings. Work resumed after recommendations made by engineers were implemented. Unfortunately, the measures proved inadequate, and the bridge came down.
The second incident happened just a few months earlier, on Nov.13, 2014 at a pedestrian bridge under construction at the Wake Technical Community College in Raleigh, North Carolina. The bridge suddenly collapsed, killing one worker and injuring four others. At the time of the collapse, concrete was being poured on a metal deck. Shockingly, just a few hours later, a similar bridge under construction just one block away also collapsed. Fortunately, no one was injured.
Other reasons for bridge construction incidents
Bridge failures are only one contributor to injuries and deaths at bridge construction sites. According to the U.S. Department of Transportation, others include:
Contact with objects or equipment
Slips, trips, or falls
Overexertion and exhaustion
Transportation incidents
Exposure to harmful substances or environments
Protecting workers on bridge construction sites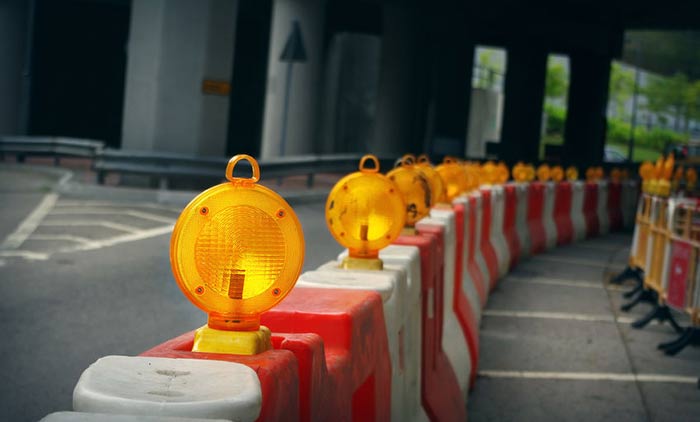 Contractors, engineers, and safety inspectors are taking significant steps to make bridge construction sites safer. Some of these include:
Equipment or object-related accidents
Improving the view drivers of construction equipment have so they can look out for other workers on the site.
Putting warnings and procedures in place to prevent "back overs," which is when a construction vehicle backs into construction workers. This is one of the leading causes of injury and death on bridge sites.
Providing greater education, direction, and support for drivers of heavy equipment.
Planning worksite logistics to avoid "tip overs" of heavy equipment.
Ensuring that workers know where utility lines are located on or near construction sites and provide training on how to work around them.
Slips, trips and falls
Customizing equipment by adding grips, handles, non-slip surfaces, and other features that make it safer to use on hazardous bridge sites.
Providing best-in-class helmets and devices to protect hearing, eyes, hands, feet, and other parts of the body.
Having different types of under-bridge access machines to make it safer and easier to get to hard-to-reach sections of bridges to make repairs and conduct inspections during construction.
Supplying the most secure harnesses and lifelines to prevent against falls, along with planning for regular, well-spaced anchor points.
Having emergency plans in place and adequate training on how to handle one.
Providing state-of-the-art safety equipment to workers stringing utility lines on bridges.
Overexertion and exhaustion
Providing equipment and tools to reduce exposure to heat and cold.
Enforcing rest breaks and work hour limitations.
Transportation incidents
Taking steps to separate workers from traffic.
Providing more clear signage and warnings.
Doing better planning around how traffic navigates around bridge construction sites.
Harmful substances
Providing adequate ventilation and breathing support equipment
Having emergency respiration equipment on-site, along with people who are trained on how to use it.
In conclusion
Traveling on and working around bridges is risky, but the general public and bridge maintenance and construction workers can rest assured that steps are being taken to reduce risk. The industry is getting creative, learning from the past and implementing best practices to keep people safe.
We'll dig deeper into how this is being done in future blog posts. Check back for more in-depth information on this important topic.