It's the time of year when people face their fears of ghosts, goblins, haunted houses, and…long, tall, icy, high, rickety, foggy, stormy, wobbly, scary bridges.
For many people, bridges cause fear and panic. There's even a term for it: gephyrophobia. A related condition, acrophobia, is an extreme fear of heights, another issue people experience when driving across or doing construction, maintenance, or inspection work on bridges. Experts say the two conditions affect a significant segment of the population.
To celebrate Halloween this year, we've created a list of the world's 10 most terrifying bridges. If you don't at least get some butterflies in your chest, we probably won't believe you!
Did you know? Modern lifts can make bridge workers feel safer and more secure while building, inspecting, and maintaining bridges.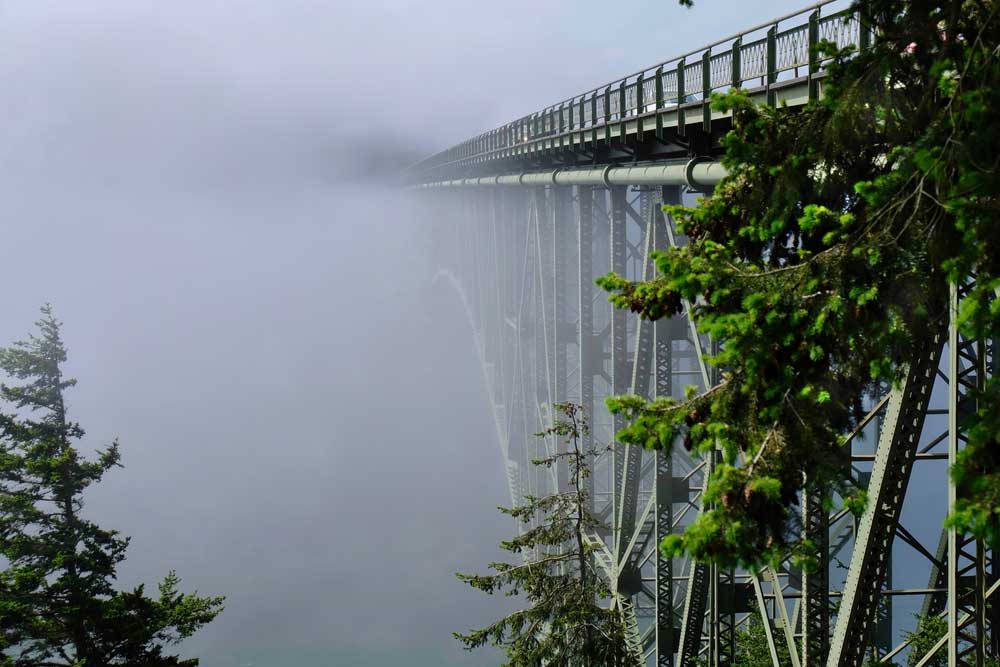 Beyond having a name straight out of a horror movie, the Deception Pass Bridge can be pretty frightening to drive over on a foggy day, when visibility levels fall close to zero.
This two-lane structure connects Whidbey Island and Fidalgo in Deception Pass State Park in Washington state. If driving over the rushing water of the Puget Sound isn't scary enough, walking the narrow pedestrian lane on the edge of the bridge can take the fear factor to the ultimate level.

Believe it or not, this bridge can be so terrifying to cross during a storm, people actually pay others to drive them over it!
Officially known as the William Preston Lane, Jr. Memorial Bridge, this structure, built in 1952, spans the Chesapeake Bay in Maryland. It is a dual span bridge more than four miles long and 200 feet high in some places.
Its location makes it vulnerable to violent storms. During extreme weather, drivers at the center of the span experience extremely limited visibility and are unable to see land. This causes panic attacks in many people.
To remedy this, the Maryland Transportation Authority recommends private companies that will drive motorists over the bridge for a fee. Motorists in the Washington and Baltimore metro area take advantage of this service, which allows them to have less terrifying trips home on dark and stormy nights.
Check it out: Kent Island Express is one example of a company that drives anxious motorists over the Bay Bridge.

Imagine traveling eight miles on a bridge over pure ice. It's a white knuckle experience that could contribute to many bad dreams.
However, it's the reality five months of the year on the Confederation Bridge, which links Prince Edward Island and New Brunswick.
This curved structure has been around for a decade and is still the world's longest crossing over ice-packed water. It's considered an engineering marvel because it can stand up to the powerful ice flows that crash into it regularly. Its design includes pointed shields at the base of the piers that break up ice, preventing flows from damaging the foundation. Experts believe this innovation will allow the bridge to survive more than 100 years, even in such extreme conditions.
Be warned: The Confederation Bridge can stand up to ice, but it's a pretty scary place to be during wind storms. Certain types of vehicles are prevented from crossing it during extreme winds. Its website posts updated wind advisories every six minutes.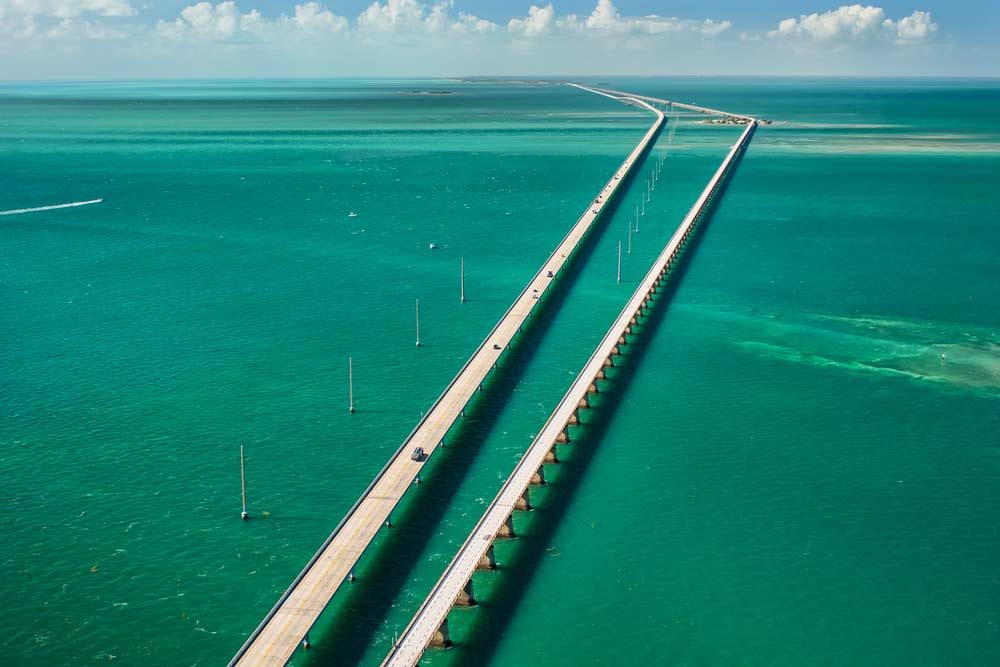 This bridge is a particularly frightening one to cross during tropical storms and hurricanes such as Irma, which affected the area a few months ago.
This seven-mile-long span links Knight's Key to Little Duck Key. It is a simple two-lane causeway that rises just 65 feet over the water. This simple bridge isn't all that scary most of the time. However, its location makes it vulnerable to extreme tropical weather.
This is the second bridge built on the site. The first was a less sturdy structure (remnants of it still survive) that had a swing span to allow boats to pass through. This one was designed to be sturdier and better able to stand up to storms. Despite its strength, this bridge is usually closed during hurricanes and extreme weather.
Did you know: The former and current Seven Mile Bridge structures have been featured in many thriller movies, including "License to Kill," "True Lies," "The Haunted Mansion," "2 Fast 2 Furious," and "Mission Impossible III"?

Imagine a bridge so anxiety-inducing that motorists park in panic before driving on it. That's the case with the Mackinac Bridge that connects the upper and lower peninsulas of Michigan.
This 60-year-old span is more than 26,000 feet long and rises approximately 200 feet above the Straits of Mackinac below. The wind on the bridge often exceeds 30 miles per hour, and the deck at its center is designed to sway as much as 35 feet to the right or left. This was done to accommodate winds, along with temperature fluctuations.
As for those nervous motorists, employees of the Mackinac Bridge Authority will drive their vehicle over the bridge for free. The agency found it necessary to offer this service as the issue is so common. The website for the bridge posts wind warnings so travelers can prepare for crossing.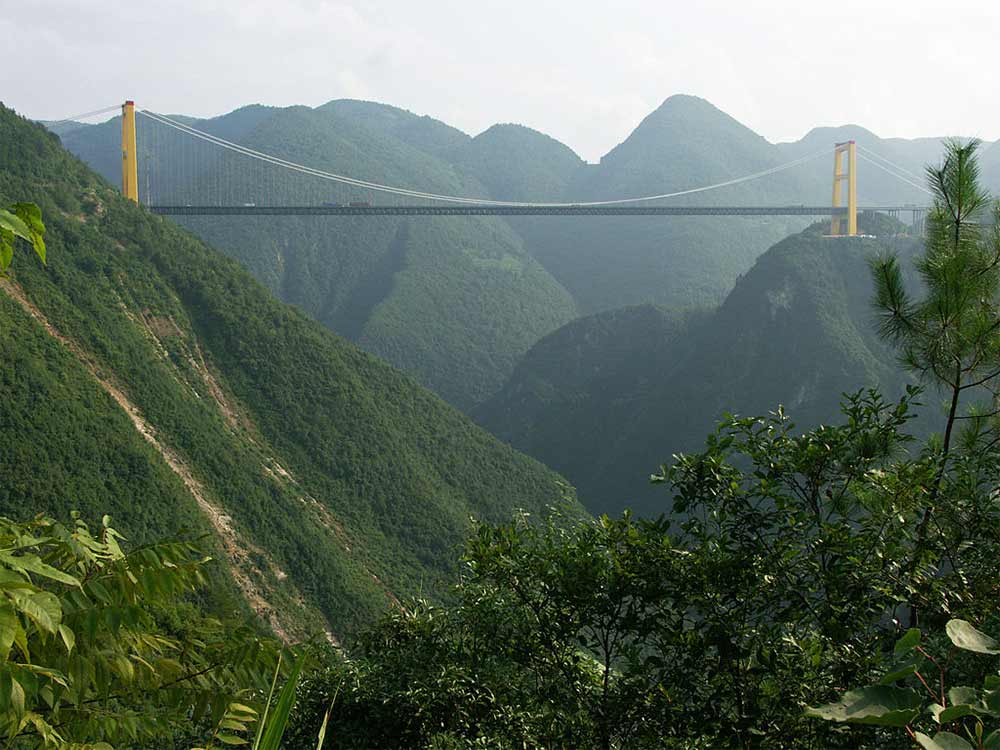 By Eric Sakowski (Own work) [CC BY-SA 3.0], via Wikimedia Commons
As the recordholder for the world's tallest bridge, this span is definitely one that anyone afraid of heights should avoid.
It opened in 2009 and is in the Hubei Province of China. This 4,000-foot suspension bridge rises more than 1,500 feet over the chasm below.
Believe it or not: The Empire State Building could easily fit under this bridge, and rockets had to be used to connect the two sides of it.
Picture this: Vehicles traveling over a bridge were lifted in the air and tossed into the opposite traffic lane.
This isn't a scene out of a sci-if movie. It actually happened on the Volgograd Bridge over the Volga River in Volgograd, Russia.
Back in May 2010, less than a year after opening, the bridge began to twist and shake during a wind storm. The action that day was so extreme, it was compared to that of the Tacoma Narrows Bridge before it collapsed in 1940.
Steps have been taken to mitigate the issue, but when the winds are right — or wrong, as the case may be — crossing this bridge can still bring back scary memories.
Drivers who need to cross this bridge to access a business must request permission to do so … at their own risk.
The historic and hauntingly beautiful Mulberry Bridge in Lincoln County, Tennessee has significant structural issues. This 144-foot-long viaduct on Quarter Road was built in 1901, and its condition is so poor it's closed to public use.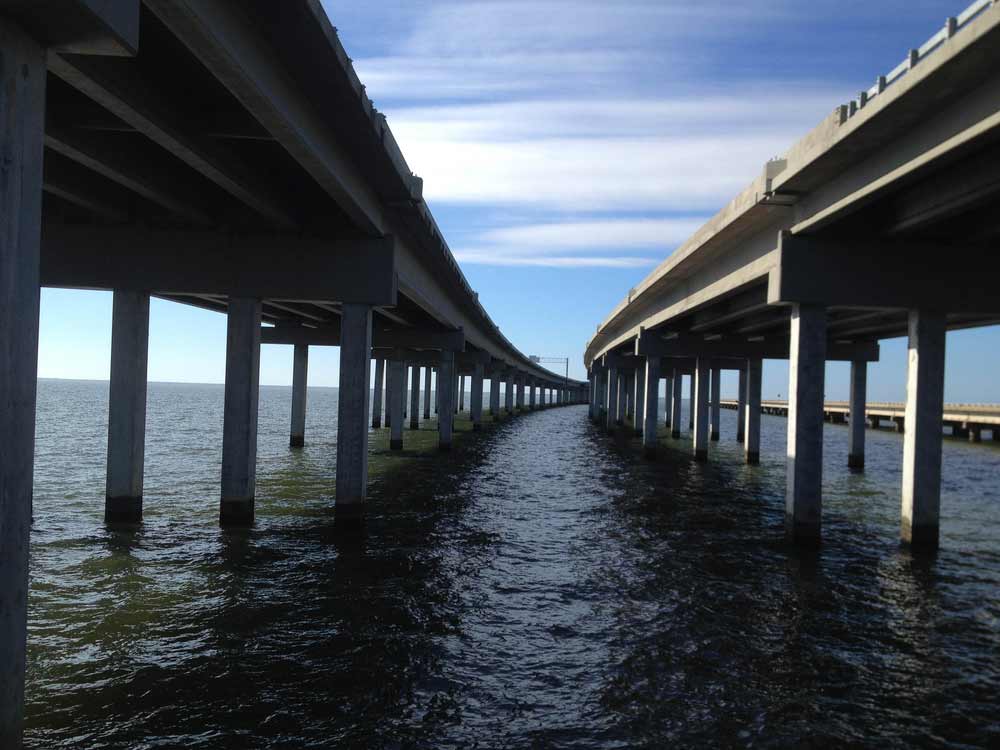 What makes this bridge so scary? Motorists can't see land when they're in the middle of the bridge.
The Lake Ponchartrain Causeway Bridge is a 24-mile-long structure that connects New Orleans with Mandeville, Louisiana, across Lake Ponchartrain.
Police have had to rescue anxious drivers who panic while crossing the bridge and stop their cars on the roadway.
This bridge has been in operation for more than 60 years and rises just 16 feet above the waters of the lake. It is still the world's longest bridge over water. It gives fearful drivers the sense that it never ends. These feelings can be increased on foggy days.
Tip for anxious drivers: Follow the vehicle ahead of you at a sensible distance and keep an eye on its taillights. This provides a guide over the bridge and can provide a sense of reassurance that you're safe.
This local viaduct near McLeansboro, Illinois, has a spooky ghost story.
Many years before it was built, a frontiersman named Lakey built a cabin near the creek that the bridge crosses. He was known as a friendly guy, who often visited with neighbors. One day, a traveler found Lakey's decapitated body near his cabin site. Lakey had been killed with his own ax, which was found nearby. His killer was never identified.
Ever since, starting the evening after Lacey's funeral, people have reported seeing a headless horseman in the area near the bridge. The ghostly image disappears just before reaching the center of the creek. The experience takes looking out for unexpected traffic into a new dimension.
---
Are there any scary bridges you know about that didn't make our list? Share them below!