Our industry is constantly changing and evolving. Here's some newsworthy updates in the infrastructure world.
A record-setting bridge opens in New York State
It took almost 20 years of discussion and four years of almost super-human labor by more than 7,000 workers, but the new Tappan Zee Bridge, just north of New York City, has finally opened to traffic. It is a bridge for the record books: the largest built in the region in more than 50 years. The structure cost approximately $4 billion to design, plan, and complete.
Here are a few additional facts and figures related to this extraordinary double span structure:
More than 1,000 cylindrical piles were inserted into the bedrock below the Hudson River to create the 41 pillars that hold up each half of the bridge.
Approximately 330,000 cubic yards of concrete were used to build the structure, including almost 6,000 precast road deck panels. Use of these panels helped speed construction and make it more cost-efficient.
The two spans are held up by 192 cables stretched among eight 419-foot angled towers.
The bridge can handle 140,000 vehicles each day.
Learn more about the opening of this record-breaking structure in this story in the New York Times. And check out this retrospective about its construction in the same publication.
So, you think THAT bridge is a record-breaker?
New Yorkers had many reasons to celebrate the new Tappan Zee Bridge in August, but that structure was dwarfed by another bridge that opened in Scotland just a few weeks later.
The new $1.7 billion Queensferry Crossing connects Edinburgh, the capital of the country, to areas in the north.
According to reports, it is the longest three-tower cable-stayed bridge in the world. The 23,000 miles of cable that suspend it are enough to — almost — wrap around the globe. It is the tallest bridge in the United Kingdom at 689 feet high and was constructed out of 35,000 tons of steel.
Amazingly, the Queen of England cut the ribbon on the new bridge, a role she also played when its predecessor opened more than 50 years ago. In fact, the area spanned by the new crossing has been home to bridges built in three different centuries. The original Forth Rail Bridge was constructed in 1883. Its replacement, the Forth Road Bridge, was completed in 1964. The new structure was finished in the current millennium.
Unlike its two predecessors, the latest bridge should be able to stay open no matter the weather because it has been designed with special wind and weather shields to protect it. This is an important feature in Scotland's often extreme climate conditions.
Learn more about Queensferry Crossing on its official website.
Hurricane Harvey: One for the record books
Continuing on with record-breaking events, Hurricane Harvey set North American rainfall records, topping out at more than 50 inches of rain in some areas. It caused significant damage to countless bridges and highways, including the Woodforest Boulevard bridge across Greens Bayou, which completely collapsed.
This article from USA Today documents the collapse, including videos of the event, and provides an overview of the storm damage caused by Harvey.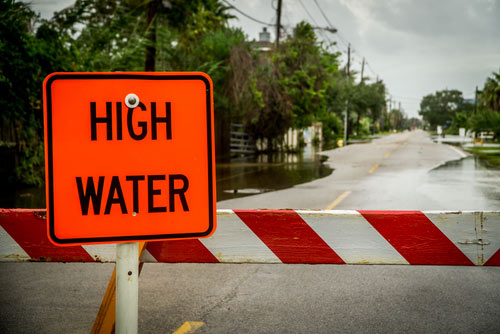 Executive order eases infrastructure rules
A few weeks before Hurricane Harvey hit the Texas and Louisiana coasts, President Trump signed an executive order to reverse an Obama-era one that, among other things, required roads and bridges to be designed to survive rising sea levels and other issues related to climate change.
The original order was created to protect taxpayer dollars when used to develop projects in flood-prone areas. The repeal of it means many of the projects that could be initiated to replace roads and bridges damaged by Hurricane Harvey may not be designed and built to withstand another similar flooding event.
The original announcement of this regulatory rollback was overshadowed by a newsworthy presidential press conference. Check out this article from NPR to learn more about the change and how it could impact future infrastructure projects.
Nearly 56,000 U.S. bridges declared structurally deficient
The American Road and Transportation Builders Association (ARTBA) published a list (based on Transportation Department data) of 55,710 bridges across the United States that are considered structurally deficient. It includes some well-known bridges, including the Throggs Neck in New York, Yankee Doodle in Connecticut, and Memorial Bridge in Washington, D.C.
Believe it or not, vehicles cross deficient bridges approximately 185 million times each day.
The five states with the most deficient bridges are:
Iowa (4,968)
Pennsylvania (4,506)
Oklahoma (3,460)
Missouri (3,195)
Nebraska (2,361).
This article in USA Today reveals that finding new funding streams for road and bridge construction and maintenance work is a big priority for state and federal governments. The reason? The gas tax that funds much infrastructure work is lagging behind revenue expectations because cars have become more fuel efficient and aren't generating as much revenue as they used to.