Despite major advances in bridge and roadway construction safety, it's still very risky work.
Before the Occupational Health and Safety Administration (OSHA) was created 43 years ago, an estimated 14,000 workers were killed on the job every year. The number of fatal injuries has fallen from an average of 38 a day back then to 12 per day now.
Roadway and transportation-related incidents contribute to more than 40 percent of workplace deaths, which is still far too many. The chart below breaks down the different types of accidents that happen at work.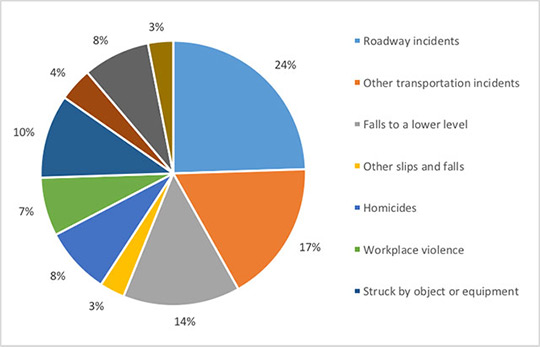 Even though the number of workplace deaths has trended downward over the decades, the number of workplace deaths actually went up in 2015. Incidents related to exposure to harmful substances, falls, slips and trips, and transportation accidents (including being hit by vehicles) contributed to the increase.
This chart shows the relative change (decrease and increase) in the number of workplace deaths overall and due to specific causes between 2014 and 2015.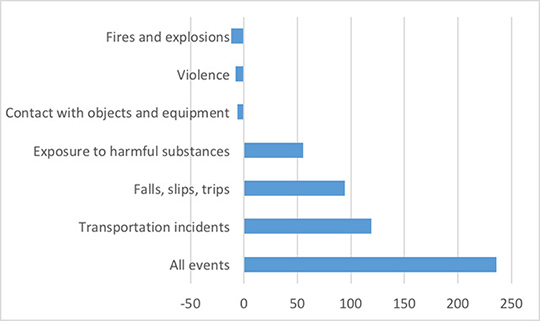 There's no good reason for an increase in the number of fatal bridge construction accidents today. Researchers and manufacturers are constantly developing tools, protective gear, and equipment designed to keep workers safe. Let's take a look at ten that should be used on every bridge construction site.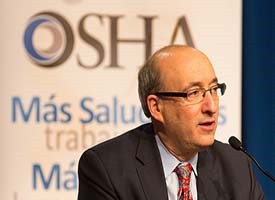 "Making a living shouldn't have to cost you your life. Workplace fatalities, injuries, and illnesses are preventable. Safe jobs happen because employers make the choice to fulfill their responsibilities and protect their workers."
Assistant Secretary of Labor for
Occupational Safety and Health
1. Specialized Bridge Access Equipment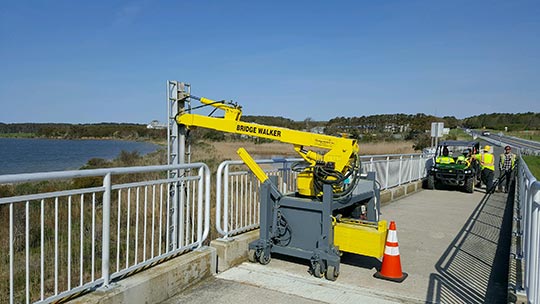 One of the biggest risks faced by bridge workers is falling from a higher level of a bridge to a lower one. This often happens because workers use the wrong equipment to access hard-to-reach sections of bridges. They retrofit equipment designed for other purposes or come up with temporary solutions to get to those areas.
If your firm does any work on bridges, it should always provide workers with equipment specifically designed for it. This could include:
Each type of bridge access equipment fills a specialized bridge construction need. It's important to work with a reputable firm that can recommend the correct equipment for the job.
TIP: Is cost keeping your firm from using the equipment you need to do the job right? Don't forget that you can rent equipment at an affordable price. Learn more.
2. Eye and Face Protection
OSHA requires that bridge workers use eye and face protection, including safety glasses and face shields, at all times. Eye and facial injuries typically happen because foreign objects and particles enter the eye while welding, cutting, grinding, nailing, or working with concrete. Extreme winds, sparks from welding or electrical work, smoke, and exposure to dangerous chemicals are hazards that can cause eye and facial damage as well.
According to OSHA, employers are required to make sure all employees exposed to eye or face hazards from flying particles, molten metal, liquid chemicals, acids or caustic liquids, chemical gases or vapors, or potentially injurious light radiation use appropriate eye or face protection. OSHA provides a comprehensive list of eye protection recommendations on their website.
3. Fire Blanketing
Many serious injuries on bridge construction sites happen when the utility lines, cables, and piping that cross them are damaged by construction equipment. That's why it's important to always be prepared and have fire control tools handy, including fire blanketing. A fire blanket is a sheet of fire retardant material that can be placed over a fire in order to smother it. It's considered the best way to control an electrical or other utility-related fire.
4. Foot Protection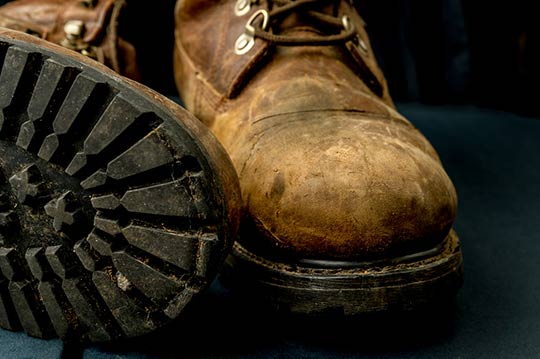 Workplace accidents and deaths related to slips, trips, and falls increased significantly last year. One way to reverse this trend is for workers to wear the correct shoes on the job. According to OSHA, employers must make sure that employees use protective footwear when they are:
In areas where there's a danger of foot injuries due to falling or rolling objects
Doing work where it's possible an object could pierce the sole of a shoe
In need of protection from an electrical hazard, such as a static discharge or electric shock
5. Under-Bridge Protection
Bridge utility lines can be damaged by construction equipment, tampering, weather incidents, and natural disasters. These threats can lead to loss of utility service, expensive repair costs, and injury or loss of life.
Protection Under Bridge (PUB) systems are caging units designed to protect vulnerable utility lines under bridges. They can help ensure ongoing utility service, along with worker and community safety. Contact an expert on these systems to find out how installing them could make the bridges you work on safer.
6. High-Visibility Safety Equipment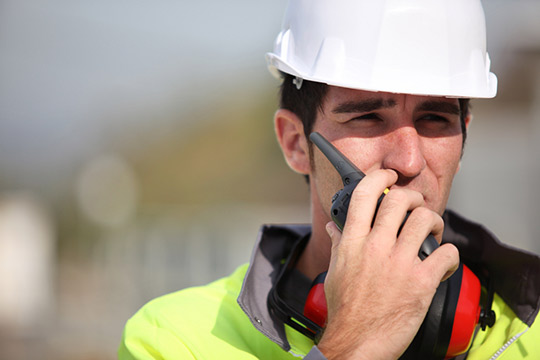 People working on bridges and roadways are required to wear special colorful and reflective clothing. It makes workers visible to drivers in work zones, which helps prevent accidents before they happen.
The rules governing this type of apparel are published by the American National Standards Institute. Reflective safety apparel used for road and bridge work must comply with ANSI/ISEA 107-2010. These garments are designed to provide different levels of protection depending on the type of work being done and where and when it's taking place. Reviewing the guidelines will help you select the right protective gear for your bridge construction workers.
Tip: ANSI standards also include care recommendations for reflective protective clothing. Following these guidelines will ensure it stays in good shape and continues to provide adequate worker protection.
7. Hand Protection
According to the U.S. Centers for Disease Control and Prevention (CDC), workplace hand injuries account for 1,080,000 emergency medical visits per year in the U.S. And according to the Bureau of Labor Statistics, hand injuries including cuts and puncture wounds cost the construction industry $382 million each year.
It's not surprising that 70 percent of workers who experienced these injuries were not wearing gloves. The remaining 30 percent of injured workers were wearing gloves, but they were not wearing the right kind for the type of work they were doing or their gloves were damaged. A Liberty Mutual Research Institute for Safety study found that wearing gloves reduces hand injury risk by 60 percent.
Under OSHA's hand protection guidelines, employers are required to make sure that workers use appropriate hand protection when they're exposed to:
Harmful substances
Sharp objects that could cause cuts or lacerations
Work that could lead to severe abrasions or punctures
Heat or chemicals that could cause burns
Weather extremes
If your firm provides your workers with standard cotton or leather gloves, you should reconsider. Manufacturers today offer innovative hand protection products made out of high-tech materials designed to meet specific needs. Plus, they're more comfortable, making it easier for workers to do their jobs. Some types of gloves offer up to 300 percent more abrasion and cut resistance than leather ones.
Did you know? According to the Bureau of Labor Statistics and the National Safety Council, the average hand injury claim is more than $6,000 and the average workers' compensation claim for lost time due to these injuries is almost $7,500.
8. Head Protection
OSHA requires that workers on bridge sites wear hard hats when:
Objects could fall on them
They could bump their head on fixed objects
They could come into contact with electrical hazards (a big risk for bridge utility workers)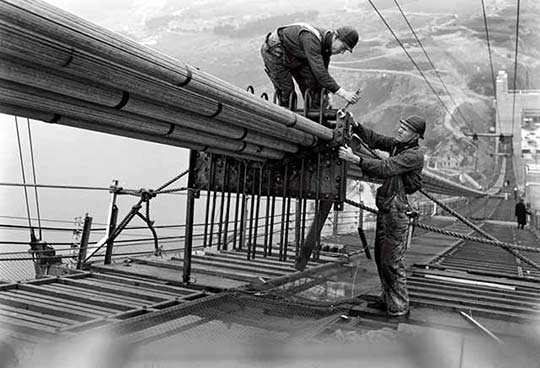 Did you know? One of the first building projects that required the use of hardhats was the construction of the Golden Gate Bridge back in 1933. Chief engineer Joe Strauss wanted workers to be safe and mandated that they all wear regular hard hats and people doing sand-blasting use ones with face shields.
Today, most hard hats are made from high-density polyethylene (HDPE) or advanced engineering resins, such as Ultem. Some feature a rolled edge that acts as a rain gutter to channel rainwater to the front, allowing water to drain off the bill instead of running down the wearer's neck.
Many hard hats are designed with ventilation to keep wearers cool and comfortable. Accessories such as face shields, sun visors, earmuffs and hearing protection, and perspiration-absorbing lining cloths could also be incorporated into the design depending on the needs of bridge workers. Attachments can include radios, walkie-talkies, mirrors, lights, pagers, and cameras.
Make it a rule to regularly inspect hard hats for dents, cracks, or deterioration. If there's any damage, they should be replaced. They should also be replaced after a heavy blow or electrical shock. Keeping hard hats in good condition is critical for worker safety.
Did you know? The MSA V-Gard GREEN Helmet is the first industrial safety helmet produced from nearly 100 percent renewable resources. High-density polyethylene (HDPE) construction sourced entirely from sugarcane ethanol is recyclable, reducing the carbon footprint needed to produce this product.
9. Signage and Barriers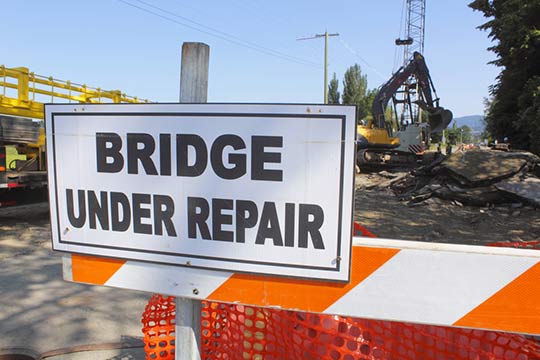 Something as simple as using adequate signage and appropriate barriers can provide a great amount of protection for workers on bridge construction sites. OSHA standards require that traffic control signs, signals, barricades, or devices must be used to protect construction employees from traffic hazards, such as motorists inadvertently entering the work space or exiting the highway in the wrong place.
Tip: Set up temporary traffic control signs and barriers within a reasonable time prior to construction. Many sites do this long before construction begins, and motorists become complacent when they don't see work being done. Placing warning signs and devices when work actually starts will help keep drivers alert.
10. Safe Vehicles
The vast majority of deaths that occur in bridge and road construction zones in the U.S. happen because a worker is hit by a piece of construction equipment or other vehicle.
That's why it's critical that all vehicles used on-site have safety features, including:
Working headlights and brake lights
Windshield wipers and defogging or defrosting devices
Audible horns
Back-up alarms
Safety glass with no distortions
Proper mirrors
Adequate seating and seat belts
Regularly inspect equipment and all the safety features to make sure everything is in good working order.
Did you know? More than 40,000 people are injured each year as a result of crashes in work zones. That translates into one work zone injury every nine minutes, or 160 per day.  Source: OSHA/National Work Zone Safety Information Clearinghouse.
Conclusion
Injuries and deaths on bridge construction sites still happen all too frequently, and they're completely unnecessary. Using the right equipment correctly will help reduce workplace risks and make the job safer. You owe it to your valued employees to do all you can to protect them on the job. It's the right thing to do and it's simply good business.
If you'd like to learn more about working on bridges safely, check out our post on handling bridge emergencies here.