From large-scale bridge construction projects to epic weather events to major tax changes, 2017 was a big year for bridge developers and contractors.
See how many of these stories from 2017 you remember. How many of them impacted your business in the past year?
Wildfires damage California bridges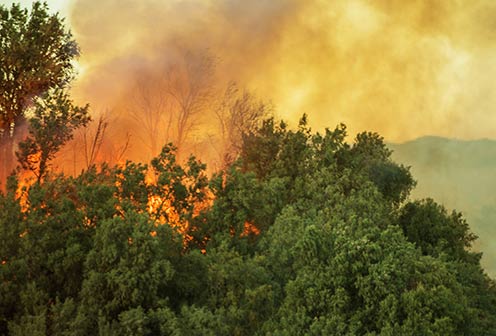 One story about the record-breaking wildfires all over California that rarely made the news this year: the countless small- to mid-size bridges that were damaged or destroyed during the massive conflagrations. On October 9 alone, 72 bridges were affected by the Tubbs and Nuns fires in Sonoma County in California's wine country. More than a third of those structures were completely destroyed.
Not only is this impacting business and causing inconvenience for residents, it's making it impossible for some people to repair or rebuild their homes because construction crews can't access their properties. Adding insult to injury, some antiquated bridges must be updated during the repair process to pass inspection. This could add to the time required to get them back into working order so they can handle traffic.
Local officials all over California know that permanently returning these local viaducts to service is a priority, so they're taking steps to expedite plan approvals and bridge inspections. They're also holding special meetings to provide developers with information on how to complete projects efficiently. The Army Corps of Engineers is installing temporary structures to ease some of the stress on the regional infrastructure.
Did you know: Industrial-grade fire blankets can help prevent and limit fire and heat damage to bridges?
The original Alaskan Way Viaduct is an elevated highway that opened in 1953. It is a double-deck elevated section of State Route 99 that travels along the Elliott Bay waterfront near downtown Seattle.
The roadway was damaged in the 2001 Nisqually earthquake. It was decided that part of the structure would be replaced by a tunnel and the rest with a new, more seismically sound bridge. Initial bridge demolition began in October 2011. Boring for the new tunnel started in 2013.
Construction was put on hold for an extended period because of problems with the boring machine, nicknamed Big Bertha, that was used to dig the tunnel, in addition to issues related to soil stability.
In the end, the problems with the boring machine were fixed and soil issues resolved, and tunneling was finally completed in April of this year. The tunnel is not expected to be completed and open to traffic until 2019, four years behind schedule. It has incurred $223 million in cost overruns.
Infrastructure legislation and funding: Back again?
One of President Trump's biggest campaign promises was to provide funding to help rebuild the nation's aging bridges and other infrastructure. A one trillion-dollar package leveraging public private partnerships was proposed to complete the work.
There was some buzz about this initiative early in 2017; however, discussions were put on hold over the summer to focus on other priorities, including healthcare reform and the overhaul of the tax system.
Word has it that infrastructure will be taken on by Congress in 2018 because it's one of the rare issues both Republicans and Democrats can align on. At the end of December, the Trump administration started talking about a smaller $200 billion plan that may be too limited for many in Congress to consider. This could lead to an interesting period of negotiation between Congress and the White House.
Notable project update: Las Vegas' Project Neon
Project Neon is the largest public works project ever undertaken in the state of Nevada. It will widen almost four miles of Interstate 15 between Sahara Avenue and the notorious "Spaghetti Bowl" interchange in downtown Las Vegas.
The corridor is currently the busiest in Nevada, serving one-tenth of the state's population, or approximately 300,000 drivers every day. More than 25,000 lane changes occur on it, on average, per hour. Because of explosive regional growth, traffic in the area is expected to double in less than 20 years.
The project is an ambitious one and has taken almost two decades to plan for and design. In addition to reducing congestion and traffic delays, it's expected to improve safety and air quality. It will provide better and easier access to locations all around downtown Las Vegas.
Significant construction milestones were reached in 2017, including work on U.S. 95 and Martin Luther King Boulevard. Next year, the focus will shift to I-15. The project should be completed in 2019.
New tax legislation passed
It took until the week before Christmas, but Congress finally passed new tax legislation that's beneficial to contractors and other business owners. Some of the highlights affecting them starting in 2017 include:
It lowers tax levels on pass-through businesses. This includes owners, partners, and shareholders of S-corporations, limited liability companies (LLCs), and partnerships who pay their portion of the taxes on the business on their individual tax returns. Taxes for people who do this will be lowered by a 20-percent deduction.
It includes a rule to prevent abuse of this pass-through tax break. If the owner or partner in a pass-through company also earns a salary from the business, that money will be taxed at ordinary tax rates.
For larger businesses, the bill reduces the corporate tax rate from 35 percent to 21 percent starting in 2018. It also repeals the alternative minimum tax on corporations.
Notable project update: I-4 Ultimate, Central Florida
The I-4 Ultimate project is rebuilding 21 miles of I-4 from west of Kirkman Road in Orange County to east of State Road 434 in Seminole County, Florida. The project will:
Add two new dynamic toll express lanes in each direction.
Replace more than 140 bridges.
Rework 15 interchanges.
Redevelop the entire highway.
Make improvements to increase speed limits.
Construction began in 2015 and is expected to be completed in 2021. It is a $2.3 billion public private partnership.
In 2017, significant work was completed, including:
Concrete bridge decks were installed on the Grand National Drive overpass on I-4.
Significant digging and foundational work was done near downtown Orlando.
Traffic signals were installed near Universal Studios theme park.
Major Accident on Railroad Bridge in Washington State
On December 19, as the year came to a close, a train on a brand-new Amtrak high-speed commuter train route connecting Seattle, Washington, and Portland, Oregon, ran off the tracks on a railroad bridge near DuPont, Washington (between Tacoma and Olympia). Several of the train's cars fell off the overpass and onto Interstate 5, a major thoroughfare carrying morning commuter traffic.
The train was traveling over a curved area of track at more than 80 miles per hour, far more than double the 30-mile-per-hour speed limit posted for that section of the route. Three people were killed in the accident and more than 100 were injured. (The train was carrying 86 passengers and crew members; people in vehicles on the roadway below the bridge were also injured as a result of the accident.)
Unfortunately, Positive Train Control (PTC), a technology that can automatically slow trains if they're traveling too quickly through vulnerable areas, like the overpass, was not activated on this route. Another less effective system, Centralized Traffic Control (CTC), was installed in the area. CTC is not able to automatically enforce speed restrictions the same way that PTC can.
Many experts question why the new route was launched without the PTC system being fully installed, tested, and working. This has resulted in an active debate about the nation's transportation infrastructure and the money being invested to keep people safe.
Notable project update: Governor Mario M. Cuomo Bridge, New York State
The replacement for the original Tappan Zee Bridge over the Hudson River, now officially called the Governor Mario M. Cuomo Bridge, after a former New York governor and the father of the current one, is a unique twin cable-stayed structure. It is one of the most ambitious bridge construction projects undertaken by the state in more than half a century.
The two structures will carry a total of eight lanes of traffic on the busy stretch between the town of Nyack in Rockland county and Terrytown in Westchester county. Construction on westbound span was completed, and it was opened to traffic in August 2017. The entire project is expected to be completed in June 2018.