Why did they do that?
In a world of banal bridges, new ones are being built that inspire fresh thinking, improve the lives of people and in a few cases, make us smile or even laugh.
Check out some of the world's most unusual bridges.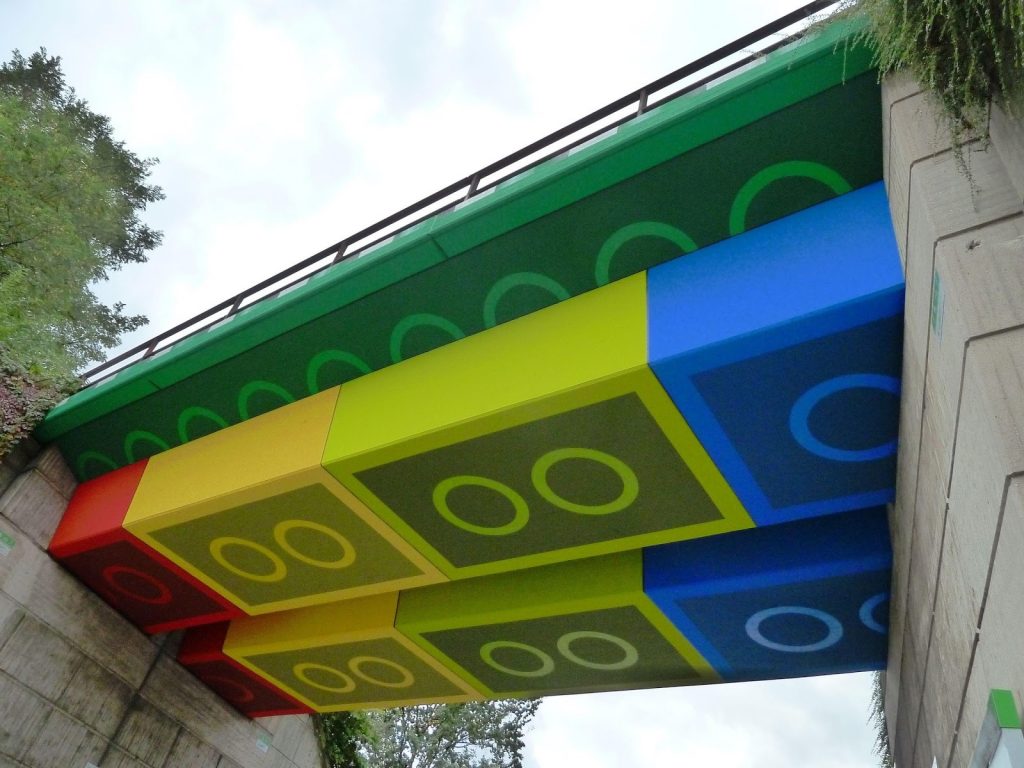 View underneath the unique Lego Bridge.
At a time when Lego building blocks are more popular than ever, this bridge in the North Rhine-Westphalian area of Germany seems like it came straight out of Legoland.
While the structure looks like it required advanced Lego construction methods to build, it's really just a common concrete beam bridge that an artist camouflaged by painting it to look like it was made of Lego blocks.
This creative update to the bridge transformed it from an eyesore into a local landmark.
Interesting fact: The Lego company actually approved this unique bridge design.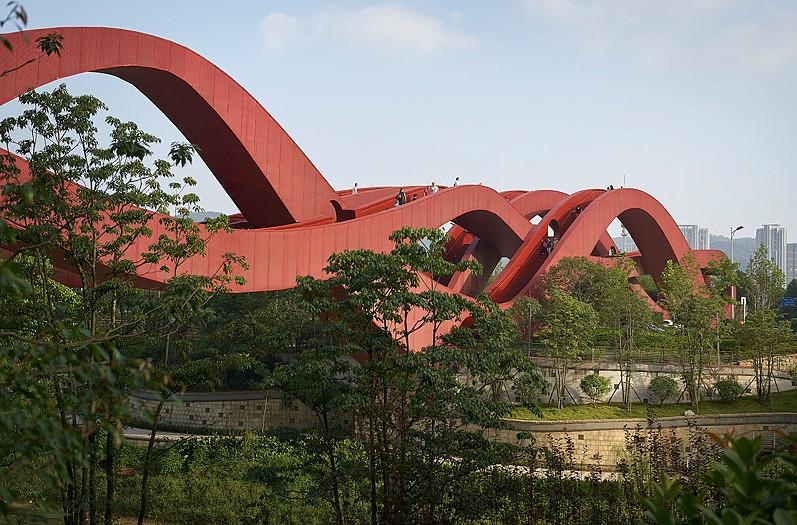 Ground level view of the recently completed Lucky Knot Bridge.
This brand new pedestrian bridge crosses the Dragon King Harbor River, connecting two parks in a large Chinese city.
The design of the 600 foot long structure is based on the Chinese folk art of knotting. It features three interwoven pathways that offer stunning views of the surrounding area.
Interesting fact: The Lucky Knot Bridge was designed by NEXT architects and is one of many unique viaducts the firm has developed all over the world.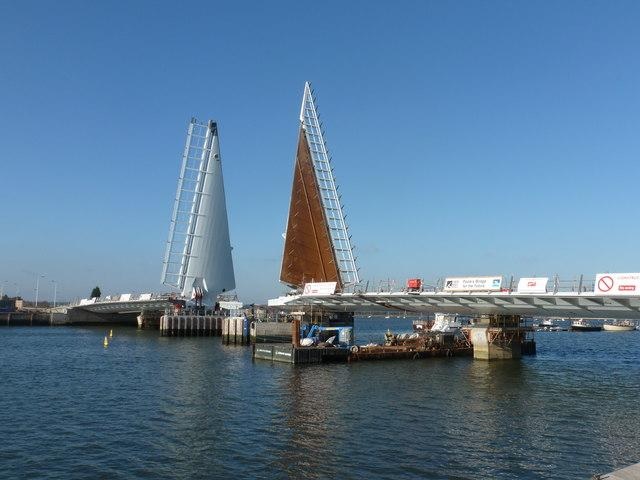 Twin Sails Bridge in its open position while under construction.
This double bascule bridge spans the Backwater Channel, a popular boating area in Dorset.
It features two 75 foot long leaves powered by hydraulic rams that open the bridge so ships can pass.
When these two sections are in the raised position, they resemble sails.
Interesting fact: It only takes two minutes to open the Twin Sails Bridge, which helps limit inconvenience to drivers.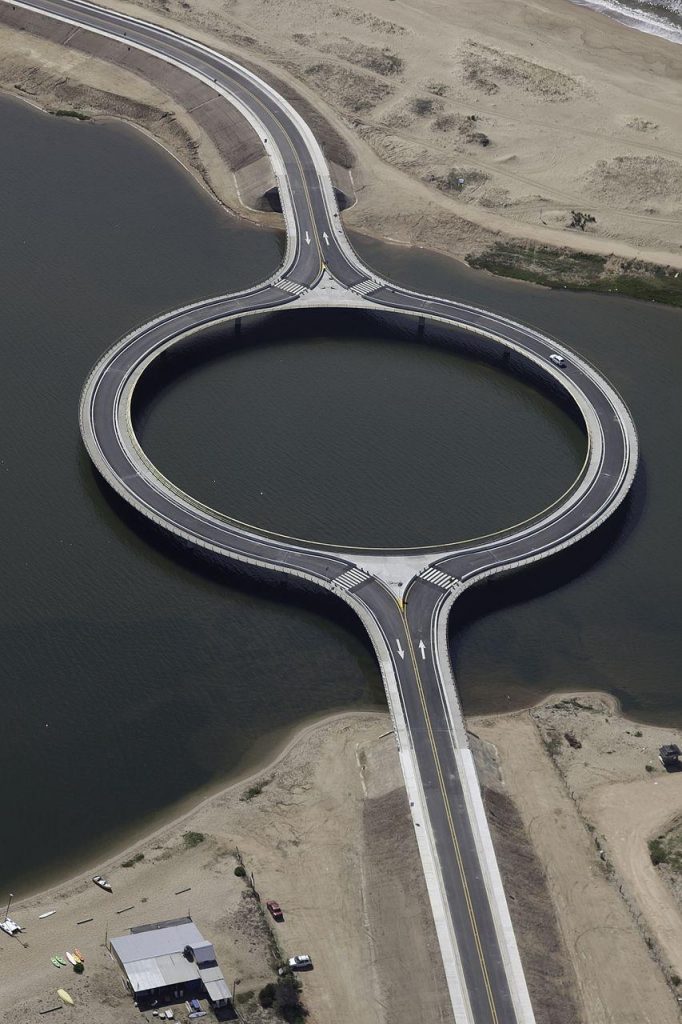 This view of the Laguna Garzón Bridge shows that it's made up of two semi-circular bridges that have been connected together.
A ring-shaped bridge may seem impractical, but in reality, it makes complete sense. The architect, Raphael Viñoly, came up with the design to help slow traffic in the area.
The bridge is located on Uruguay's southern coast connecting the cities of Rocha and Maldonado.
It allows approximately 1,000 vehicles to cross at any given time and includes two pedestrian walkways that allow people to take in the area's amazing vistas.
It is expected that this viaduct will pay for itself over time because it will encourage significant residential and business development in the local area.
Interesting fact: This innovative bridge replaces a raft crossing. The rafts would carry two cars at a time across Laguna Garzón.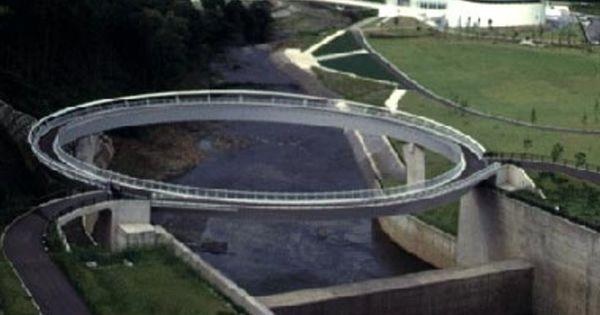 The circular shape of the Friendship Bridge encourages contemplation and contributes to the serenity of its natural environment.
Another example of a circular bridge, this one has a different reason for its round design.
The bridge is located within a wellness resort and the shape was chosen to enhance the contemplative nature of its surroundings.
Interesting fact: The Friendship Bridge is located at the base of a damn and provides spectacular views of the dam, river below and natural landscape.
Eshima Ohashi – Matsue and Sakaiminato, Japan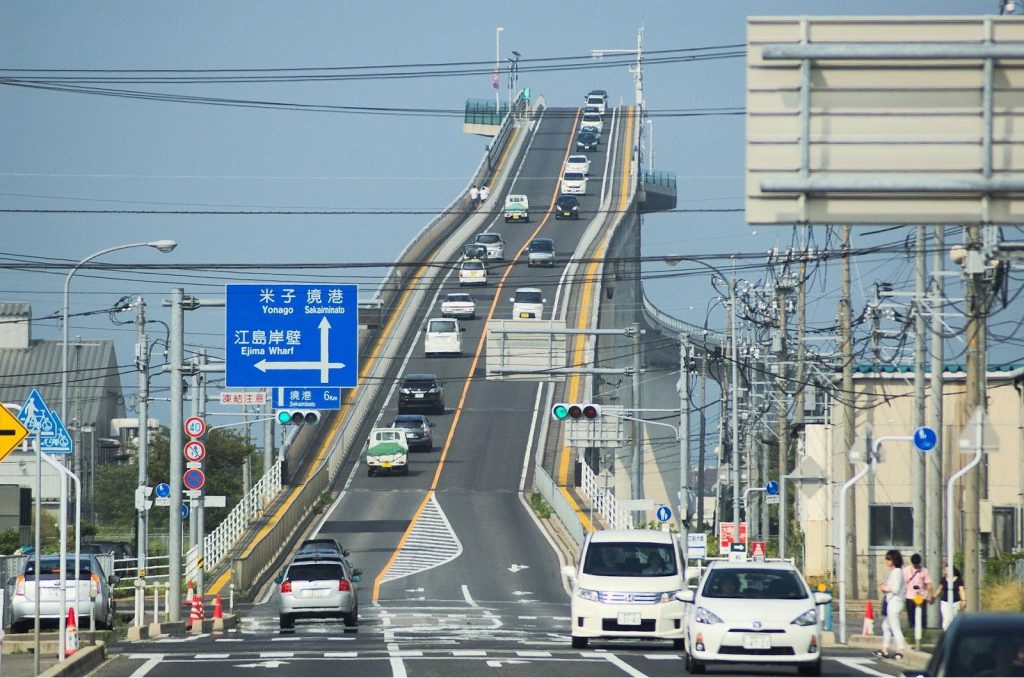 From certain angles, the Eshima Ohashi appears to rise at a dramatic 45 degree angle.
Is it for real, or is it an illusion? That's a question often asked by people crossing this viaduct over Nakaumi Lake.
From certain perspectives, this structure looks more like a roller coaster than a conventional bridge. The roadway appears to rise at a dramatic 45 degree angle.
However, the gradient is actually a standard 6.1 percent incline. It's simply an optical illusion that creates the impression that it's much steeper.
Interesting fact: It took almost seven years to construct this bridge and it is the largest rigid-frame viaduct in Japan and number three in the world.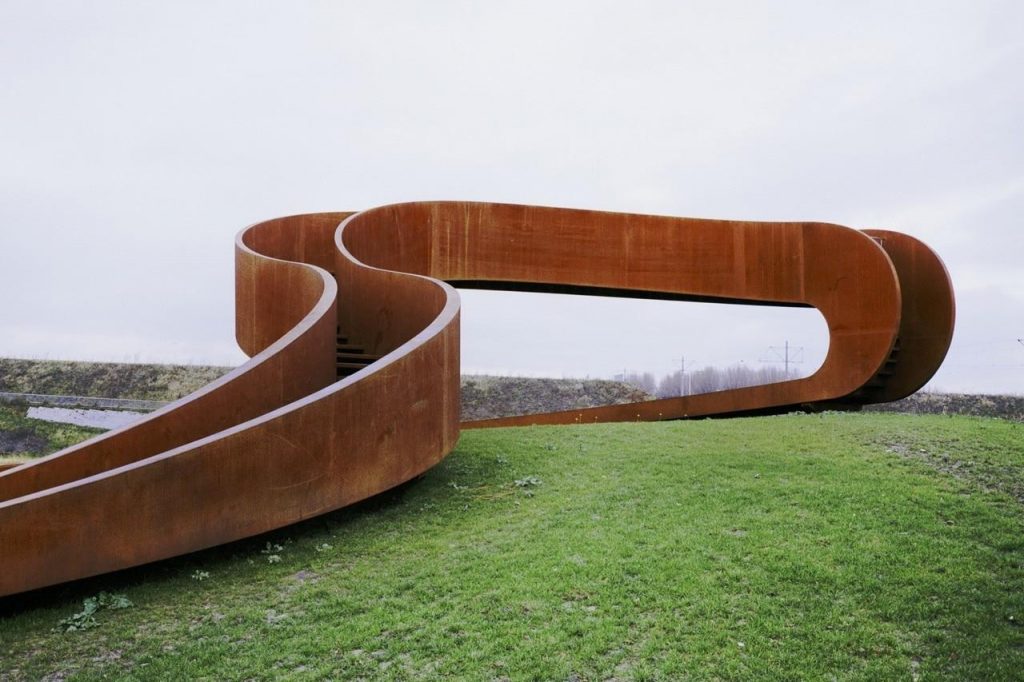 The Elastic Perspective is a bridge to nowhere that looks different depending on the perspective of the viewer.
This is truly the bridge to nowhere.
This rusting steel structure folds in on itself, creating a seemingly never-ending loop. It sits in a field on a hillside providing a view of the city of Rotterdam.
A tram stop is the only indicator of a start or end to the continuously looping structure.
The design of the Elastic Perspective is based on the Moebius Ring, which means it has no real top or bottom. It has only a single surface that folds in on itself.
Interesting fact: It is almost impossible to understand the shape of this structure while on site. It looks completely different from every angle. The only way to "get it" is to view a model or illustration of it.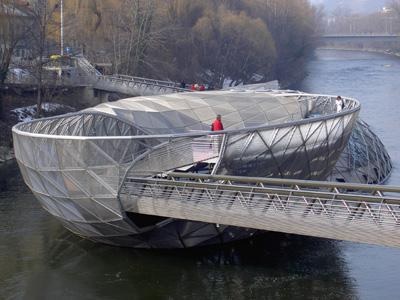 A bridge or an island? The Island in the Mur is a bit of both.
Many question whether this iconic structure in the Mur river is a bridge or an island. The answer is that it's both.
Constructed as a temporary installation back when Mur was designated a cultural capital, it became so popular that residents chose to make it a permanent part of their cityscape.
This floating steel and glass sea-shell-shaped floating building is connected to both sides of the river by small bridges.
It houses a popular café, playground and performance space. At night, the Island in the Mur glows a distinct shade of blue.
Interesting fact: Even though the Island in the Mur was developed to be temporary, experts believe it could survive for 50 or more years, even through extreme flooding conditions.
Pythonbrug – Amsterdam, The Netherlands
The steel structure of the Pythonbrug resembles a twisting red snake.
Translated from the Dutch as Python Bridge, this 300 foot long connector was designed to resemble a snake.
Officially known as the High Bridge, it connects Amsterdam's Sporenburg area with Borneo Island.
Unlike other similar undulating bridges, this structure actually rises and falls to create the snake-like illusion.
Interesting fact: Despite having been completed less than 20 years ago, the Pythonbrug's five degree inclines make it difficult for many disabled people to cross it.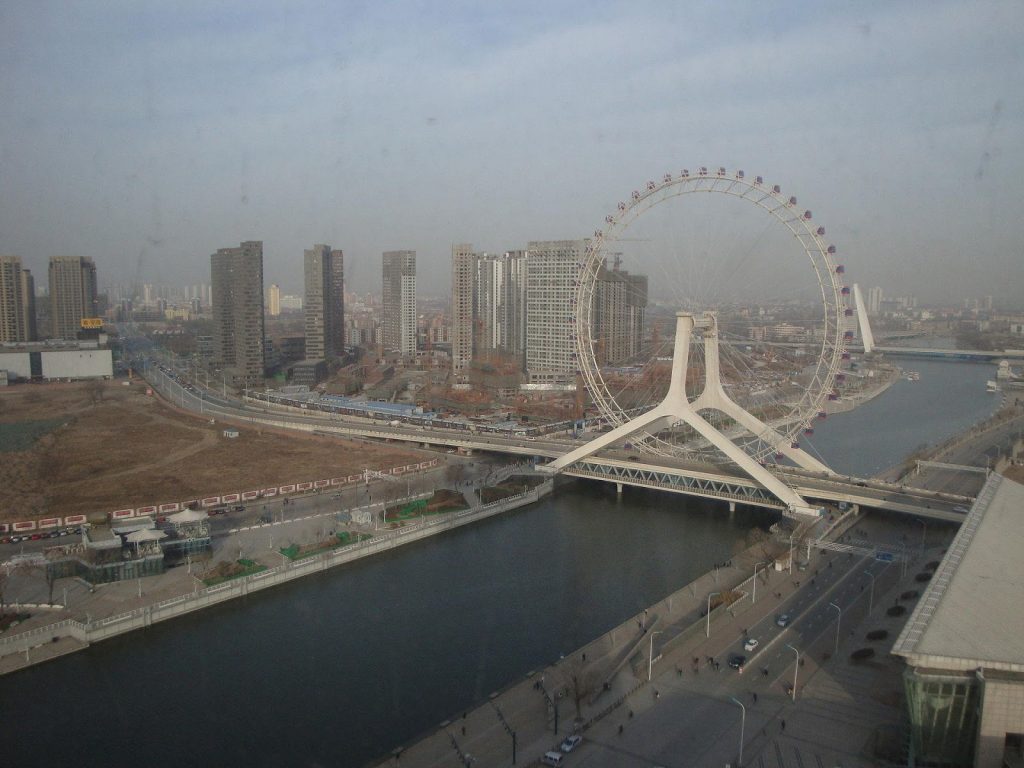 A view of the Tianjin Eye, which rises more than 400 feet above the Yongle Bridge.
Here's another bridge that isn't merely a bridge.
The Tianjin Eye is a ferris wheel that was incorporated into the Yongle Bridge.
The six-lane viaduct crosses over the Haihe River in this city in northern China.
At more than 400 feet, the ferris wheel is the third tallest in the world. It has 48 capsules, each carrying eight passengers.
Interesting fact: It takes one half hour for the ferris wheel to complete a single rotation. It provides an interesting visual diversion for people in vehicles stuck in traffic.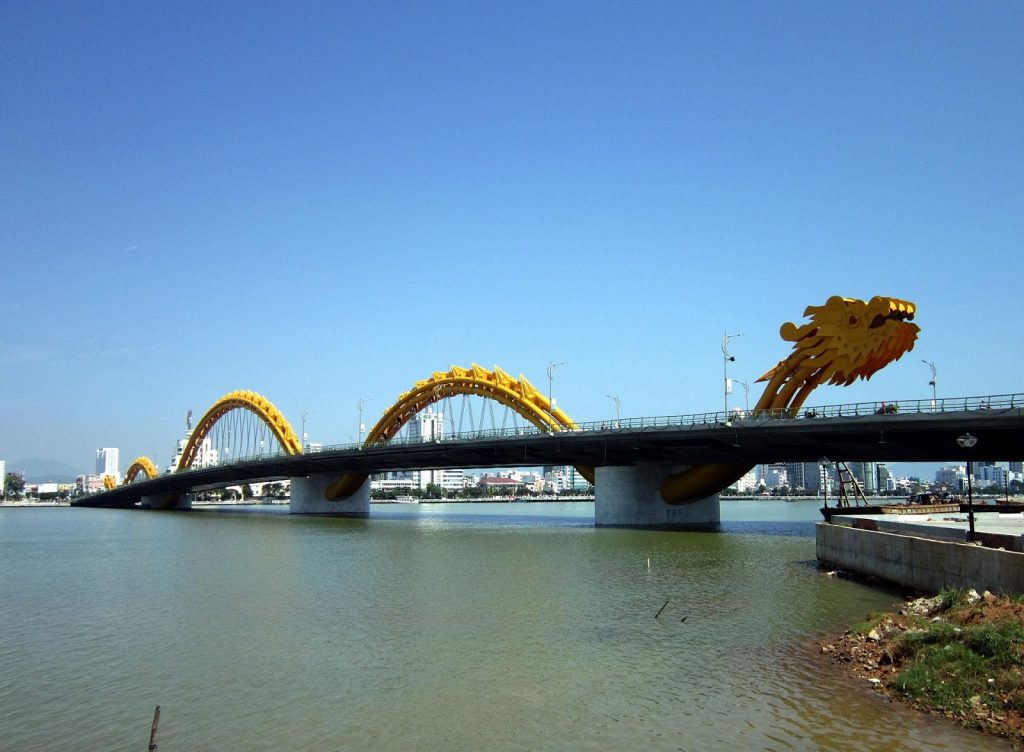 The Dragon Bridge breathes fire on weekend nights.
Dragons are a symbol of power, nobility and prosperity throughout Asia. They're used as a decorative element in art and architecture across the continent.
This bridge is unique because it integrates the dragon symbol into the structure.
At just over 2,000 feet, the six lane viaduct provides the shortest route between the airport and central Da Nang. It is a critical connector in this Vietnamese city.
Interesting fact: Every Saturday and Sunday night, the dragon breathes fire as part of a spectacular show. This is in addition to the more than 2,500 LED lights that illuminate the bridge every evening.
Slauerhoffbrug – Leeuwarden, The Netherlands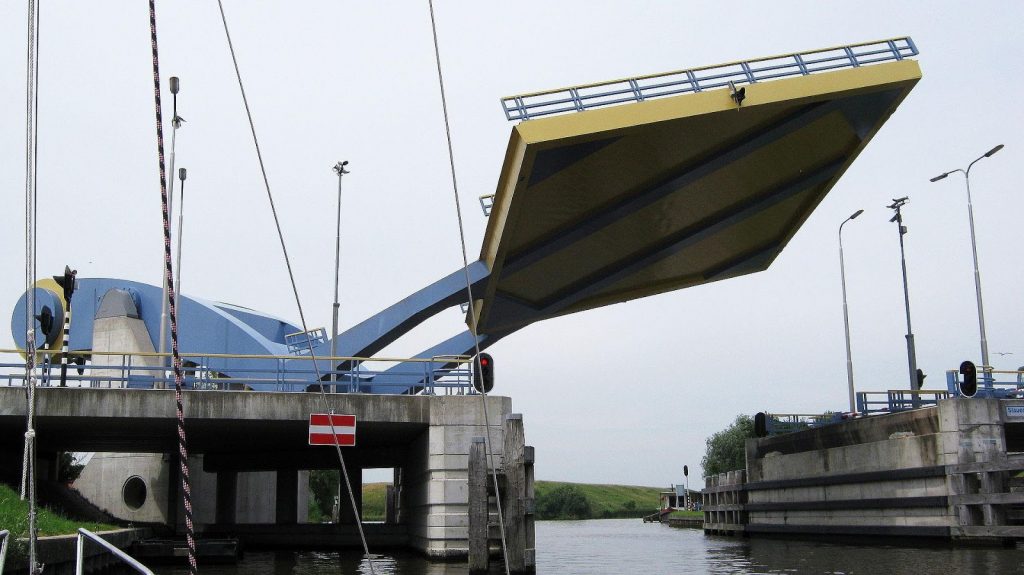 The Slaueroffbrug looks a lot like a pancake flipper in action when it's being raised.
Last but not least, this bascule bridge resembles a spatula flipping pancakes.
Every time the bridge opens for ships to pass, it looks like that common kitchen utensil being lifted into the air.
As prominent as the bascule is in its raised position, it becomes invisible when lowered into the roadbed.
Interesting fact: The Slauerhoffbrug is quickly raised and lowered to let ships pass ten times a day, on average.