Our industry is ever-changing and always exciting. Here's some newsworthy updates in the infrastructure world.
Ten years later: The legacy of the Minneapolis bridge collapse
Believe it or not, the Interstate 35W bridge collapsed 10 years ago this month. Even though the final cause of it was determined to be a design flaw, the event put the spotlight on the poor state of the nation's bridges and other infrastructure.
This article from NPR looks back at the tragic event and tracks the progress that's been made to improve bridges located near the collapse and across the nation.
The bridge that took a half century to build
Another Minnesota bridge also made news this month.
The idea of building a bridge across the St. Croix River had been discussed in the 1960s, '70s, '80s, and '90s. Political pressure and environmental concerns kept it from getting built.
This article from Fox News explains what it finally took to complete this sleek, elegant, one-mile-long structure. (Hint: A DVD of the movie "Bridge Over the River Kwai" was one of the critical factors.)
Infrastructure funding: It may be back on the radar
The future of the nation's bridges and utility systems is highly dependent on Congress passing an infrastructure funding program.
Taking steps to improve the nation's infrastructure was one of President Trump's key campaign issues.
However, developing a clear plan for infrastructure financing has consistently been back-burnered by the administration to focus on other priorities. Many have thought that there will be no movement on this for the foreseeable future.
However, The Hill reports that many members of Congress are developing their own plans, which could be revealed as early as this fall.
Stay tuned to find out how this could impact you and your business in the future.
World record: The longest pedestrian suspension bridge
In a month of extremes, the world's longest pedestrian suspension bridge opened in Switzerland. It spans 1,621 feet and rises as high as 279 feet. It offers hikers unique views of the Matterhorn, Weisshorn, and Bernese Alps. The bridge replaced an older, less ambitious structure.
This article and video from CNN allows you to experience this amazing bridge in a remarkable part of the world.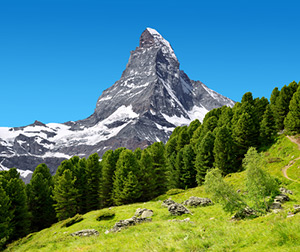 Preview one of the world's most expensive bridge projects
The $3.9 billion replacement for the Tappan Zee Bridge over the Hudson River, just north of New York City, is nearing completion.
This unique drone video footage from lohud.com allows you to experience the new Gov Mario M. Cuomo Bridge (along with the old structure) before it opens. While you're on the site, check out the archival footage from the original 1955 bridge opening.
An appreciation: China's Nanjing Yangtze Bridge at (almost) 50
Many believe the Nanjing Yangtze Bridge changed the history of that emerging nation almost 50 years ago.
It was the first major construction project completed by that country without foreign support. It gave the citizens of China a new sense of national pride when it was finished.
This appreciation from CNN Style offers a broad perspective on this historic — and well-loved — structure.
Innovative thinking
Staying up to date with the news about what's happening in the world of bridge design, engineering, and maintenance is a great way to keep ahead of your industry competition. Another is to stay abreast of what others in the industry are designing and building and the techniques they use to get work done more efficiently.
Check out the newsworthy bridges that will change the way you think about these structures. An idea from a world-class architectural wonder could be just what it takes to make even the simplest bridge project more efficient, attractive, and cost-effective.
The Sundial Bridge
Redding, California
The Sundial is the first bridge that renowned architect Santiago Calatrava built in the United States. The form was designed for structural reasons, but it serves dual purposes. In addition to allowing pedestrians and bicyclists to cross the Sacramento River, it also acts as a giant sundial, keeping time for local residents.
BP Bridge
Chicago, Illinois
This gracefully undulating steel bridge uses the same materials as the music pavilion in nearby Millennium Park, which was also designed by Frank Gehry. Not only is it a beautiful footbridge that offers pedestrians a unique walking experience, it was also designed to serve as a sound barrier from nearby traffic.
Moses Bridge
Halsteren, The Netherlands
A bridge that isn't a bridge? This "non-bridge" doesn't cross over a body of water. It cuts through it. The waterway used to be a moat and the architects wanted to respect the historic location, so they decided to build a completely invisible passage that feels like it's slicing the water in half. Interestingly, this discrete structure, designed to not be seen, has become a major tourist draw.
Neal Bridge
Pittsfield, Maine
Compared with the other bridges on this list, this one may seem a bit dull. However, this simple road bridge is revolutionary.
It is supported by 23 arches made from fiber-reinforced plastic filled with concrete. This is the first genuinely new bridge construction material since steel and concrete became popular in the last century.
High Trestle Bridge
Des Moines, Iowa
This bridge is often referred to as Iowa's Stonehenge. It is a half-mile-long, 13-story span that is central to the state's High Trestle Trail. Iron squares were incorporated into the design to reflect the area's coal mining industry. They are strikingly illuminated by blue LED lights at night.
Magdeburg Water Bridge
Magdeburg, Germany
We're all familiar with bridges that cross water. This one is actually filled with it. It is the largest aqueduct designed to carry boats in the world. It took almost 100 years to complete this structure. Work began in 1905 and did not end until 2003. Construction was interrupted for one particularly long period during World War II.
Scale Lane Bridge
Hull, England
Drawbridges generally bring all activity on and around them to a complete halt when they open to allow traffic on the waterway below to pass. This one does not. This bridge opens slowly, like a gate. This lets pedestrians walk on it while a hinge opens and closes for boats to pass. To make things more interesting, the designers added a restaurant and a viewing deck to enhance enjoyment of the structure.
Pont Jean-Jacques Bosc
Bordeaux, France
This bridge, currently under construction, won't just get people from place to place. It will be a place where they will want to spend time. It has been designed to be extraordinarily wide, so it can handle recreational events, festivals, community activities, and concerts.
The Garden Bridge
London, England
This proposed bridge, if built, could serve as both an attraction on the Thames River, as well as a connector between north and south London. It is a pedestrian bridge that has been taken to its ultimate level, with beautiful gardens and lawns for people to enjoy.
Snow-Free Heated Bridge
Norrköping, Sweden
This pedestrian bridge is a model for any built in a northern climate. Its core is hollow and filled with hot air. This keeps it snow and ice free in the winter without special maintenance. Not only is this efficient, it reduces the wear and tear that plowing, shoveling, and chemical treatments can cause.
Oresund Bridge
Oresund Strait, between Sweden and Denmark
When is a bridge not a bridge? When it's a complex bridge and tunnel combination, like this one. This structure starts as a bridge in Sweden and ends as a tunnel in Denmark. An artificial island was created in between to hold back water and prevent it from flooding the tunnel.
Pont de Signe Bridge
London, England
The name of this interesting structure translates into "Monkey Bridge." This fun footbridge over a lake at an estate was held up by three massive helium balloons. While no one ever crossed this bridge, this artistic endeavor presents a novel way to think about bridge engineering.
Do you need more information about how you can build bridges more effectively? Contact Bridge Masters for help. We work with bridge designers, engineers, maintenance firms, and municipalities all over the country. We're a great source of innovative ideas and industry best practices that can help you do what you do even better!