Billions of commuters cross millions of bridges all over the world every day. In most cases, the experience is mediocre and unmemorable. However, over the centuries, some people took it on themselves to build bridges that truly stand out and make the experience of crossing them a memorable one.
Here are some of the most visually stunning and famous bridges on earth (outside the U.S.), along with the below-the-surface secrets that make them unique and special design and engineering feats.
Kobe-Naruto, Japan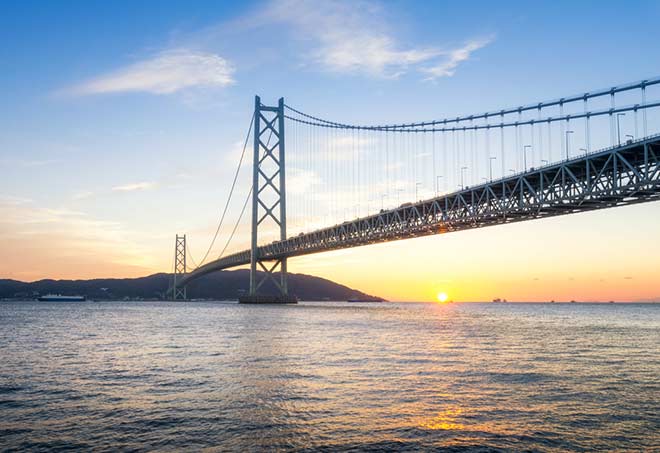 The Pearl Bridge is currently the world's longest suspension bridge at almost 1.25 miles long.
It's a feat of modern engineering not just because of its length but also because it is built in an extreme weather and active earthquake zone. The incomplete bridge actually survived the Kobe Earthquake in 1995.
Interesting fact: Engineers had to adjust the design for this bridge during construction because the foundation moved due to earthquake activity.
Design & Engineering
In order to counter extreme winds, earthquakes, and sea currents, the bridge was designed with a two-hinged stiffening girder system, allowing the structure to withstand winds of 178 mph, earthquakes of up to a magnitude 8.5, and harsh sea conditions.
Engineers use this bridge as a model of how to design beautiful streamlined bridges in extreme conditions.
Guangxi, China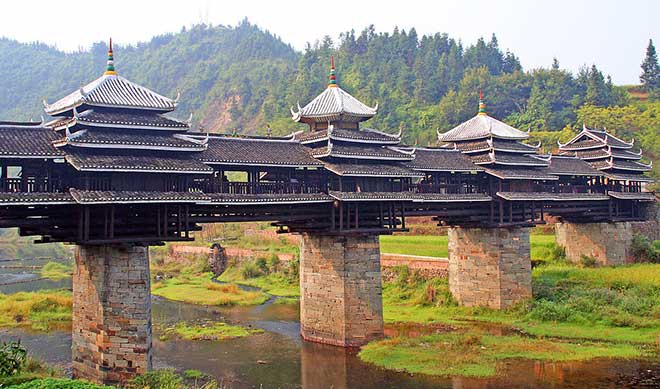 By gill_penney (IMG_1367) [CC BY 2.0], via Wikimedia Commons
This bridge is not only beautiful but also surprisingly complex. It was built in 1916 to span the Sanjiang River. It connects two crowded villages and is crossed by thousands of people every day. It has many features covered bridges in the United States don't. This pedestrian bridge has three floors and it links together a series of piers, pavilions, and verandas that give pedestrians opportunities to meet and gather together.
Design & Engineering
Community leaders and bridge planning experts can learn a lot from this structure. Not only does it serve the utility purpose of connecting two towns, it's also a vital gathering spot for people from the cross-river communities to meet.
The best bridges serve multiple functions, including facilitating transportation, integrating communities, enhancing their environment, and providing vital utility connectivity.
Southern Cordillera, Singapore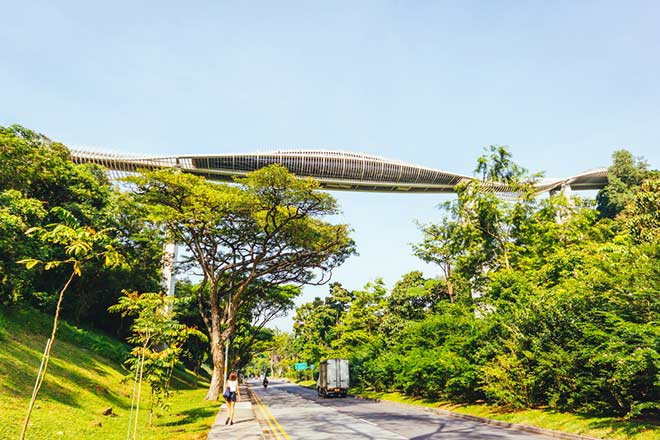 This pedestrian and cycling bridge connects three parks and gardens. Some people describe the complex structure as a wave, a snake, or a massive slinky. As you move across the bridge, your vision of the surrounding city and parkland changes constantly.
It's quite a bridge design that allows you to see the world in unique ways.
Design & Engineering
This bridge was designed around highly complex mathematical principles and benefitted from computer-aided design to get it right. It's based on the concept of a three-dimensional surface folding over itself. The bridge integrates form, complex engineering concepts, and fine design into a perfect package.
Gateshead, England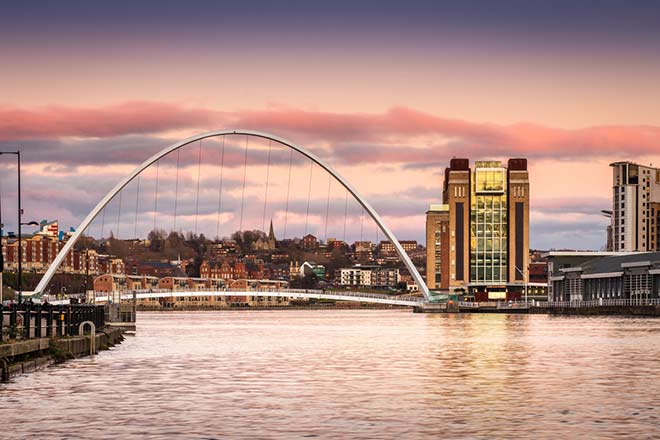 The Gateshead Millennium Bridge is one of a kind. It is the only tilting bridge in the world. Its innovative design has won countless awards since it opened in 2002. It uses a system of hydraulic rams that pivot the walkway so boats can pass through. The process takes less than five minutes.
Did you know? It looks as if an eye is winking whenever this bridge is raised and lowered.
Design & Engineering
The Gateshead Millennium Bridge is an amazing example of efficient bridge design: The largest portion of the bridge was built offsite and dropped into place by Europe's biggest floating crane, Asian Hercules II.
Zhejiang, China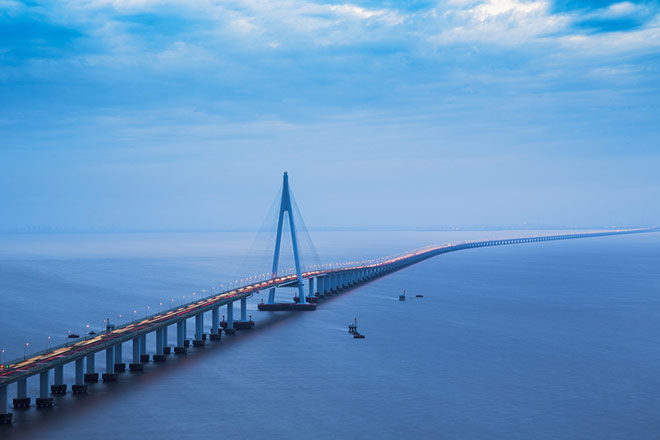 This almost 22-mile-long bridge connects the Chinese cities of Shanghai and Ningbo. The bridge shortened the highway travel distance between the two metro areas from almost 250 miles to just over 110 and reduced travel time by one half. It is the longest transoceanic bridge anywhere.
Believe it or not: Approximately 600 experts were involved in designing the Hangzhou Bay Bridge. It took almost a decade to design and build.
Design & Engineering
The bridge leverages cable stayed bridge construction techniques. The project was built using this method because the cables are able to hold up against adverse conditions, including some of the highest tidal bore forces on earth. The bridge is also located in an area that experiences earthquakes, extremely high winds, and typhoons.
The Hangzhou Bay Bridge uses steel piles rather than concrete because experts proved they'd hold up better against corrosion from the tidal forces in the bay.
The bridge made use of some novel construction technology and vehicles. Two huge cranes were used to transport large girders from land to the section of the bridge where they were needed.
Learn about vehicles that can make bridge construction and maintenance easier and safer.
Brasilia, Brazil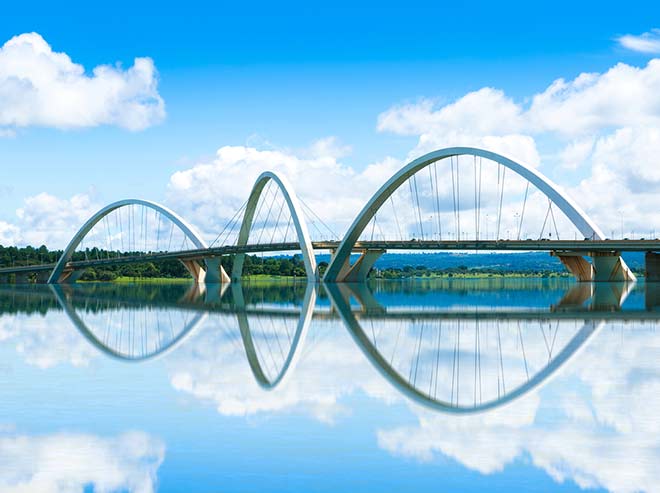 This unusual, asymmetrical bridge is named after a former Brazilian president. It's designed with three steel support arches that jump from one side of the bridge to the other. Many feel the bridge design actually enhances the local Brazilian sunsets.
Design & Engineering
Designers and engineers can learn a lot from this bridge. It won the Gustav Lindenthal Medal at the International Bridge Conference in Pittsburgh in 2003. This medal honors a design that shows harmony with the environment along with aesthetic merit. It used innovative techniques to better integrate with its remarkable setting.
Millau, France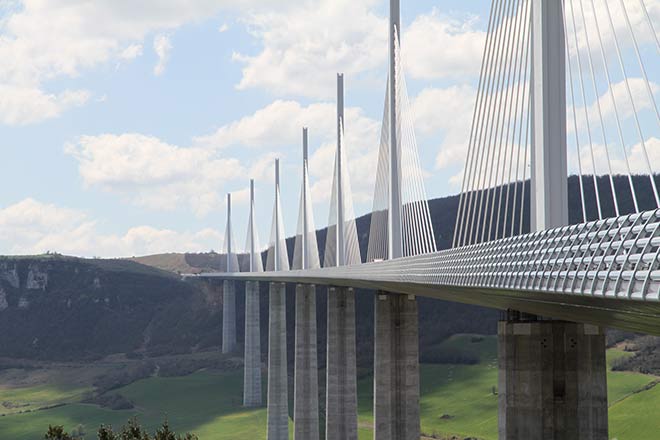 This bridge was built to help facilitate holiday traffic between Paris and Spain. It moved well beyond its original utilitarian purpose and is considered one of the most inspiring bridges ever built and one of the greatest feats of engineering. The bridge received the Outstanding Structure Award, which is the top honor for bridge builders.
Did you know? The Millau Viaduct is the tallest bridge on earth.
Design & Engineering
You may be wondering how such an inspiring structure that is so perfect for its setting got built. A long and intensive design competition narrowed down the options until the final design was selected. The bridge industry could learn a lot about improving bridge design by implementing similar competitions more often.
Vers-Pont-du-Gard, France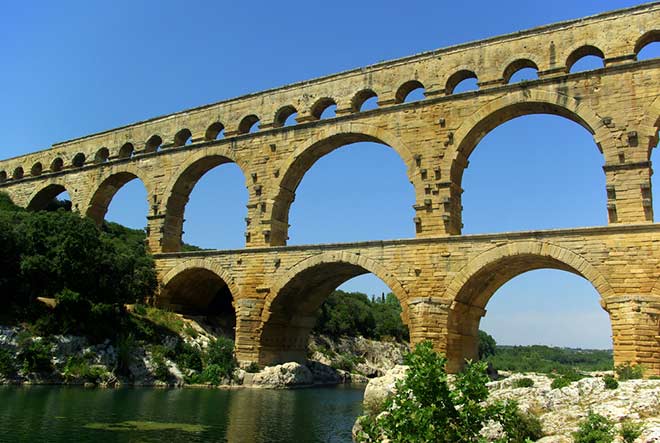 This extraordinary structure was built by the Romans all the way back in 50 A.D. It was part of a utility system that carried water to Nimes from an underground water source more than 30 miles away. The water was transported underground until it reached the Gardon River. The Pont du Gard was built to carry the water supply across the river, much like how bridges today are used to move water and other utility services vast distances.
Design & Engineering
The Pont du Gard was one of the earliest bridge structures to inspire designers and engineers both because of its beauty and precise construction. It demonstrates remarkably accurate engineering, with a difference in height of one inch from one end to the other.
Florence, Italy
This bridge, build in medieval times over the Arno River, is known for the renowned shops that line it. It's Europe's oldest stone, closed-spandrel segmental arch bridge.
Did you know? The Ponte Vecchio was one of the few bridges not destroyed by Nazi bombs during World War II. The order came directly from Adolf Hitler.
Design & Engineering
The Ponte Vecchio is one of the world's oldest and most versatile bridges. It's also an early example of a bridge that serves multiple uses, in this case, shopping.
Designers and engineers have been using this model for centuries. Today, bridges carry virtually everything, including pedestrians, cyclists, autos, trucks, commuter and commercial rail lines, and critical utility infrastructure across expanses.
Sydney, Australia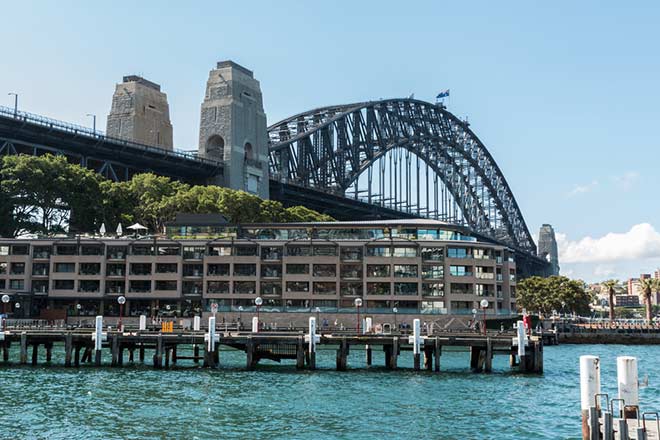 This iconic bridge is often referred to as "The Coat Hanger" by residents because of its arch-based design. Since it opened in 1932, it has become a centerpiece of Australian pride and celebrations.
Sydney Harbour Bridge is the world's largest steel arch bridge. Much like the Statue of Liberty in New York harbor, the bridge is a symbol that welcomed generations of immigrants to Australia.
Did you know? Sydney Harbour Bridge is the ultimate destination for bridge climbers from all over the world.
Design & Engineering
Engineers designed giant hinges to absorb the bridge expansion caused by Sydney's hot sunlight. It is an innovation that has been replicated in other extreme climates.
Also, giant creeper cranes were used throughout the construction process to build this ambitious bridge. They were the first generation of the highly innovative equipment used to build bridges today.
Hong Kong, China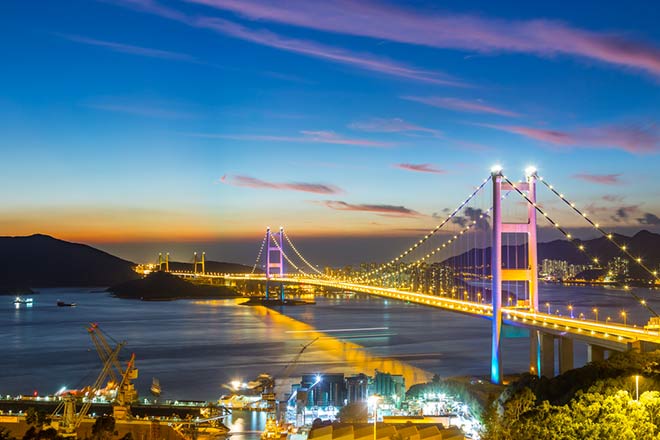 This bridge gets points for being beautiful while addressing some very significant design challenges.
It is the ninth-longest suspension bridge in the world (second longest when completed in 1997). It has two decks and carries both road and rail traffic. The bridge is the largest railroad bridge anywhere.
It sits in an area subject to tremendous winds and relatively frequent typhoons. There are no walkways on the bridge and it features a sheltered lower deck because of the strong wind conditions.
Design & Engineering
Going into the project, engineers knew winds were going to have a significant impact on the bridge.
They conducted extensive wind tunnel studies to see if the structure would be safe while being constructed and once it was completed. They looked closely at everyday aerodynamic stability, as well as performance during extreme typhoon wind speeds.
A 1-to-80 scale model of the incomplete bridge and a 1-to-400 scale model of the finished one were built and tested. Adjustments were made to the design of the bridge and timing of the construction based on the results.
Today, the bridge is constantly monitored and the data is compared to the results of the model testing. This helps engineers better understand how long span bridges perform in actual wind conditions versus artificial testing environments. This comparative data is used to improve new bridge designs.
Amarapura, Burma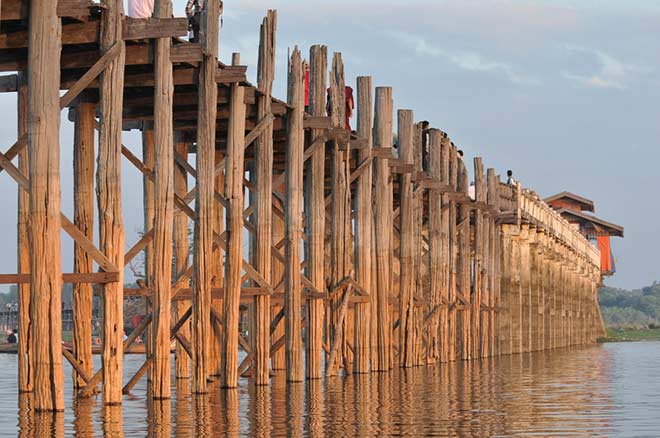 This 4,000-foot-long bridge, built around 1850, is the longest and oldest teak bridge in the world. It spans Taugthaman Lake. People love to view this bridge at sunset, when robed monks walk across it.
Believe it or not: There are nine sections of the bridge that can be lifted to let large boats and barges pass.
Design & Engineering
This bridge is an extraordinary example of adaptive re-use. It was built out of the teak columns from an old palace.
It's also an engineering marvel. The structure features a curve shape in the middle to resist the effects of wind and water. The posts were shaped into cones so that rain water falls easily over the bridge.
Want more? Check out additional content bridge engineering and design here:
The Greatest American Bridges ( & What We Can Learn from Them)