Millions of people cross thousands of bridges all over the U.S. every day and think nothing of it. However, driving over some bridges is a truly memorable experience. Many even come with incredible histories and stories about how they were designed, engineered, and built.
Here are our choices for the most interesting bridges in America, both because of their beauty and the tales behind them. Check them out and see what you can learn.
For a deeper look at iconic bridge designs, check out our post here.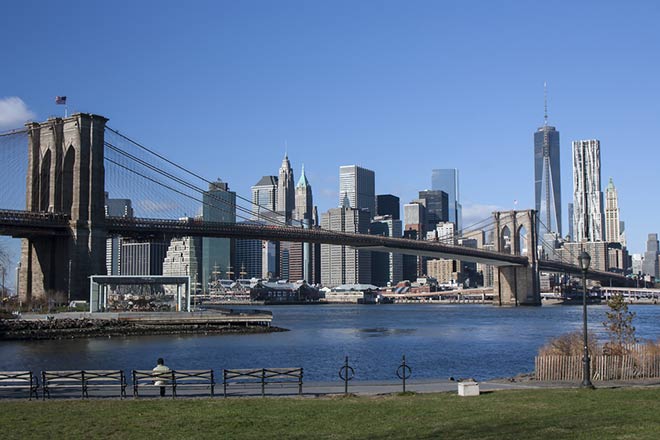 New York, New York
New York is a city connected together by amazing bridges, but if we have to pick just one to celebrate, it's the truly iconic Brooklyn Bridge.
Finished in 1883, it's one of the oldest suspension bridges in the United States. It was named a National Historic Landmark in 1964 and a National Historic Civil Engineering Landmark in 1972.
What We Can Learn:
It's interesting that the Brooklyn Bridge inspired many bridge designs that followed. But did you know that John Roebling, the man who developed it, built a smaller scale model, called the Roebling Suspension bridge, that links Ohio and Kentucky over the Ohio River? (That bridge is profiled later in this article, because it's a gem in its own right.)
He applied many of the lessons learned from that and similar bridges in developing the more complex Brooklyn Bridge. Tragically, Roebling never got to see the Brooklyn Bridge built because of an unfortunate accident while conducting surveys for it. Construction oversight was transferred to his son.
Did you know: Older bridges require more frequent inspections that need specialized equipment?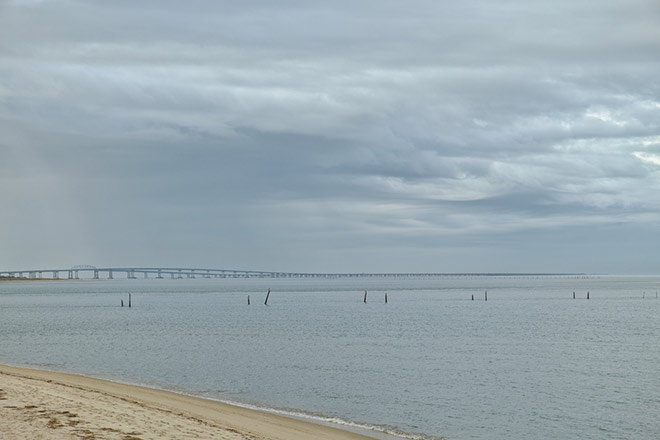 Virginia Beach, Virginia
The CBBT is a 23-mile combination of bridges and tunnels that cross the mouth of the Chesapeake Bay.
This amazing feat of engineering, which opened in 1964, combines 12 miles of trestle bridges, two one-mile-long tunnels, four artificial islands, four high-level bridges, approximately two miles of causeway, and 5.5 miles of approach roads. It replaced the vehicle ferry service that had operated in the area since the 1930s.
It is one of only ten bridge-tunnel systems in the world.
What We Can Learn:
The initial idea for this project was to build high-level bridges to cross over two major shipping channels that cut across the bridge route. However, the U.S. Navy had concerns that a bridge collapse could keep a big part of the Atlantic fleet from reaching the Atlantic Ocean.
To solve this problem, engineers suggested a series of bridges and tunnels known as a bridge-tunnel, similar to the Hampton Roads Bridge-Tunnel that had been finished in 1957, but a much longer and more complex version.
Construction of the project was challenging. It took six months alone to access cutting-edge equipment from all over the world. The two tunnels that are part of this project are anchored by four man-made islands of approximately five acres each. The tunnels run below the main shipping channels.
They were built by digging large ditches, then pre-fabricated concrete sections were lowered into them. Finally, they were covered with earth. Construction took place through extreme weather, including nor'easters and hurricanes. Still, workers persevered and the job was completed successfully.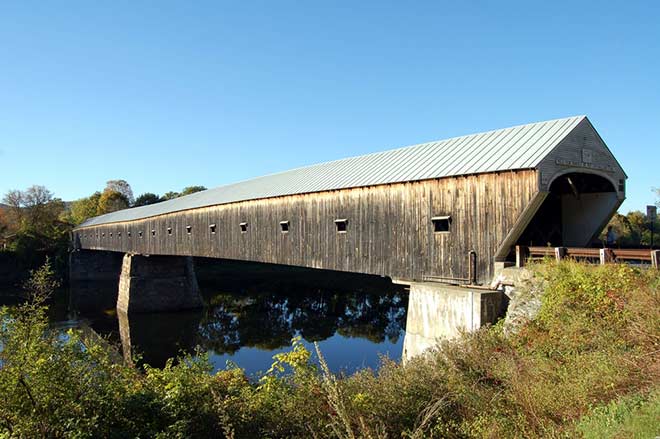 Cornish, New Hampshire
This bridge is extraordinary for its authenticity alone. It is also one of the longest single-covered spans that carries auto traffic in the U.S. It has held up structurally over time, despite looking like it has lived through more than a few New England winters. If you ever want to pay a visit, it crosses the Connecticut River between Cornish, New Hampshire and Windsor, Vermont.
What We Can Learn:
This is the third covered bridge on this site. It was built in 1866 and completely rehabbed in 1988. The length and beauty of this bridge has earned it a designation as a National Civil Engineering Landmark by the American Society of Civil Engineers (ASCE). This bridge proves the value of regular inspections and maintenance as key contributors to bridge longevity.
 Looking for more effective ways to conduct bridge inspections and do maintenance work? Check out these innovative tools.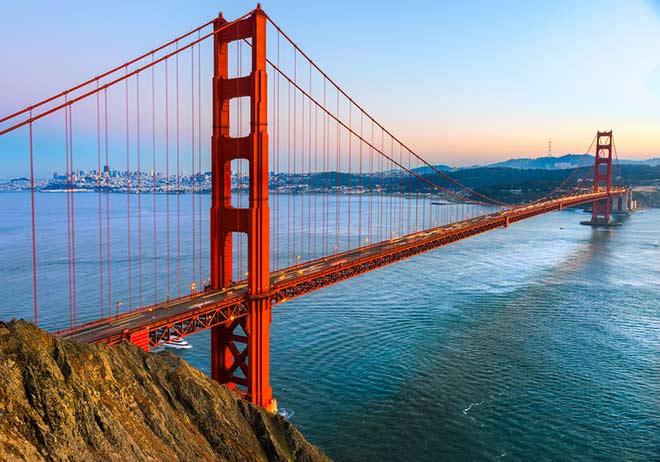 San Francisco, California
Almost 80 years old, this bridge is probably the most famous and recognizable anywhere. The Golden Gate Bridge was the longest suspension bridge until 1964. It is the most photographed bridge in the world.
When it was built, San Francisco was not the growing, vital city we know today. By connecting San Francisco to the other bay communities, the bridge changed everything.
While some may not be as moved as others by the industrial era design, it is undeniable that the San Francisco we know today would not be the same without its skyline being enhanced by The Golden Gate Bridge.
Did you know: The American Society of Civil Engineers has named The Golden Gate Bridge one of the Wonders of the Modern World?
What We Can Learn:
Many experts believed the Golden Gate Bridge couldn't be built because of extreme wind and fog. Engineers were able to overcome these barriers, setting an example for future construction in other so-called "impossible-to-build" locations.
The Golden Gate also instituted new initiatives during construction, including requiring hard hats to keep workers safe.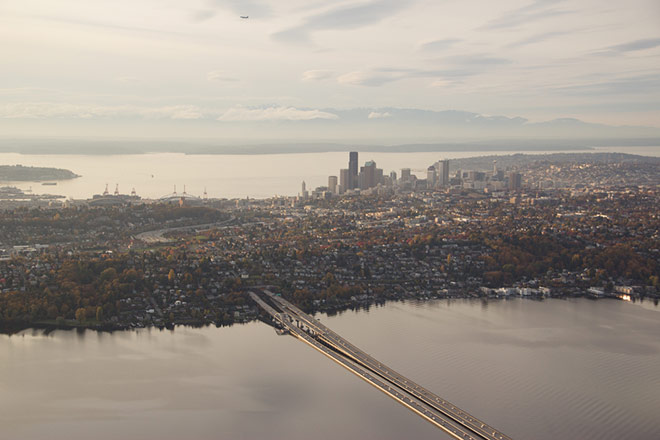 Seattle, Washington
This pair of floating bridges carries traffic across Lake Washington from Seattle to Mercer Island, Washington. Taken together, these are the second-longest floating bridges in the world.
The idea for the original bridge was generated in 1921, but construction never started until 1939 and was completed in 1940. A second bridge was added to the first to relieve traffic in 1989.
The original bridge sank when it was undergoing renovation in 1990 and was replaced in 1993. Today, this combination of bridges is a recognized Seattle landmark. The subtle design enhances its remarkable natural surroundings.
What We Can Learn:
This combination of bridges has a history of engineering issues. The original design had a moveable section, creating a bump in the road that made cars swerve across polished steel joints, which caused many accidents. In addition, a reversible lane system, one that changed traffic direction using signals with arrow and "X" signs, compounded the hazard, leading to many head-on collisions. The addition of the parallel bridge in 1989 and the design of the replacement structure in 1993 helped resolve these problems.
The learnings from the process of developing, enhancing, and replacing these bridges informed bridge design through the twentieth century and beyond.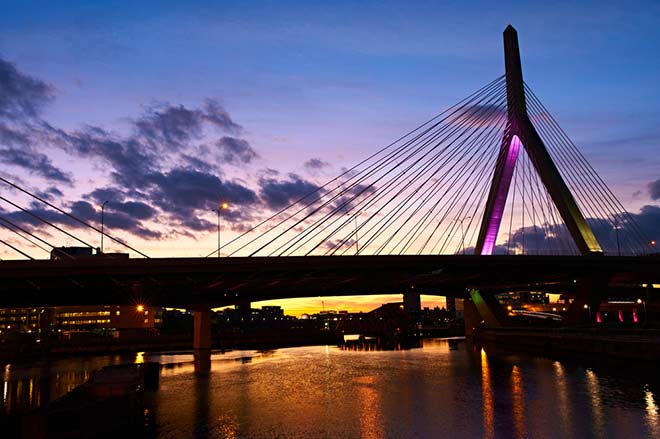 Boston, Massachusetts
This bridge has become an icon in the city of Boston. Highly complex and beautiful, it connects highways and tunnels that lead into and out of the city in all directions. It opened in 2003 and was part of "The Big Dig," the largest road construction project in United States history.
Believe it or not, the "elephant test" was used to judge the safety of this bridge. Fourteen elephants weighing more than 100,000 pounds walked on it in October 14, 2002. A similar test had been used to test the Brooklyn Bridge when it was built. It's believed that elephants have instincts that prevent them from walking on unsafe structures. The bridge passed the test.
What We Can Learn:
This bridge takes construction planning to the next level. It connects into tunnels and bridges that head in multiple directions. It was a part of the biggest road construction project in American history. The construction impacted virtually every aspect of life in Boston, including maintaining utility connectivity to the entire metro area.
This is a cable-stayed bridge, which means that instead of hanging the roadbed from cables strung between towers, the cables run directly between the road and the towers. These bridges have been popular in Europe for more than 50 years; however, they are relatively new to North America.
Boston officials turned to an experienced Swiss bridge designer to ensure construction of this complex structure would get done right.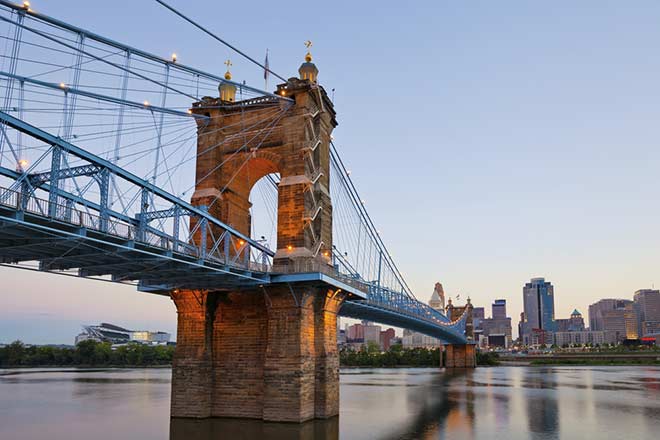 Cincinnati, Ohio
Does this bridge look familiar? It should! Believe it or not, this was the prototype — or "practice bridge" — for the first bridge on this list, the renowned Brooklyn Bridge. Still, it's a beauty in its own right.
The Roebling Suspension links Ohio and Kentucky over the Ohio River and was built by John Roebling.
When the first people crossed it on December 1, 1866, it was the longest suspension bridge in the world. Today, many use the bridge to walk from the sports venues in Cincinnati to the hotels, bars, and restaurants in Kentucky, something never anticipated 150 years ago.
Did you know: The construction of this bridge took more than 10 years due to complications and delays related to the Civil War?
What We Can Learn:
Without this bridge, the Brooklyn Bridge would likely never have happened. It gave the designers and engineers the opportunity to learn about suspension bridge construction in a less-challenging area than New York's East River.
Roebling developed innovative pumps that made the construction of this bridge and others possible. In addition, he was able to try out different types of materials to build the towers, along with wire types for the cables, always looking for ways to make the bridge stronger and more durable.
Some of the experiments worked better than others, and certain sections of the bridge have had to be rebuilt over time. However, the bridge is now in good enough shape to last long into this century and beyond.
Did you know: Engineers working during this era were beginning to think about how bridges could be used to transport water and waste utilities?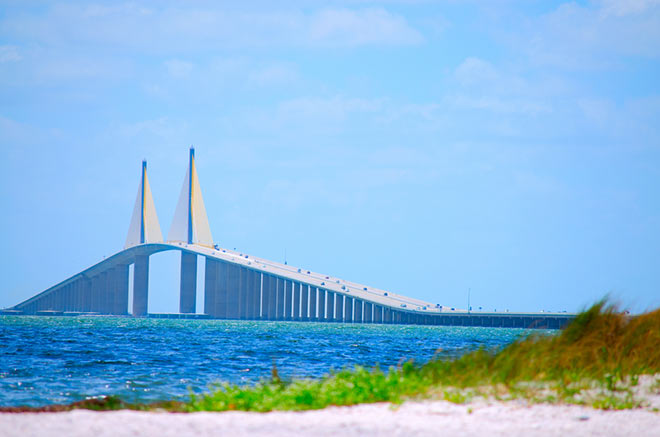 St. Petersburg, Florida
This extraordinary cable-stayed bridge crosses Tampa Bay for more than four miles. Construction took five years and the bridge opened in 1987. Partly in response to the collapsed bridge that preceded this one on the same site, it is solidly built of steel and concrete.
Bob Graham, the Governor of Florida and U.S. Senator who oversaw the design and construction of the bridge, advocated for a design similar to the airy and ethereal Brotonne Bridge in France. He wanted the bridge to be a solid and sound one but not compete with its natural environment. Today, the bridge is dedicated to Graham.
This bridge is often considered a symbol of the state of Florida and is one of the top spots to film car commercials.
What We Can Learn:
Unfortunately, today's awe-inspiring Sunshine Skyway Bridge came to be because of a tragedy. During a violent storm, a freighter crashed into the pylons of the previous bridge, causing a partial collapse that sent cars, trucks, and a bus into the water below the bridge. Sadly, 35 people died that day.
Engineers learned a great deal from that accident and collapse and built a concrete cable-stayed structure designed to withstand extreme weather and accidents. They developed large concrete islands, called "dolphins," around the six piers that support the bridge to absorb unexpected impact.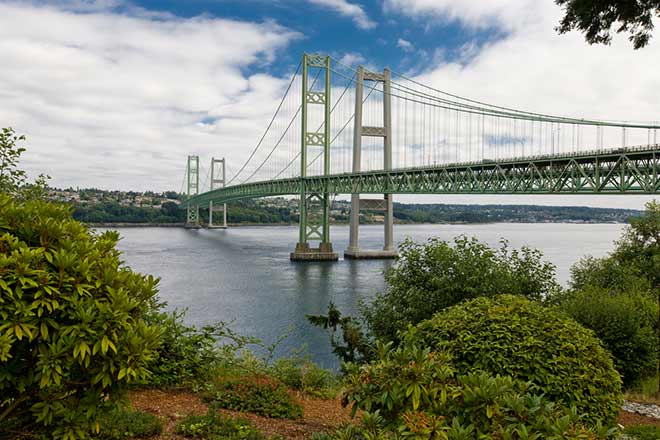 Tacoma, Washington
This bridge is unusual because it's really a pair of "twin" suspension bridges. Each of the twins was built more than a half century apart. The bridges cross the Puget Sound, connecting Tacoma with the Kitsap Peninsula.
The first of the twins opened in 1950, and today is the westbound section of the twin bridge complex. By 1990, population growth increased traffic on the bridge, and it surpassed capacity. After a long period of planning and review, construction began in 2002 and the new bridge opened in 2007. The new bridge carries eastbound traffic.
Today, the bridges are the fifth-longest suspension bridges in the United States.
What We Can Learn:
The original bridge on this site was nicknamed "Galloping Gertie." It opened in July 1940 and collapsed because of vibration issues related to wind, among other factors, just four months later.
The collapse had a lasting impact on science and engineering. Even today, many physics textbooks use the collapse as a prime example of elementary forced resonance, with the wind providing an external periodic frequency that matched the natural structural frequency of the bridge.
This was merely one of the factors that caused the bridge to fail. The primary reason, as mentioned, was aeroelastic flutter. Another contributing issue was that it was designed with solid sides that didn't let wind pass through the deck of the bridge. This allowed the bridge to catch the wind and move back and forth, which is what lead to its destruction.
The failure increased bridge aerodynamic research, which has had a major effect on all the long-span bridges built globally since 1940.
Conclusion
Effortlessly blending form and function, these beautiful American bridges continue to educate and inspire. Which are your favorites?