The Brooklyn Bridge is structurally deficient. Should you cross it?
Whether crossing big, famous spans or small local bridges, this is a question drivers often deal with these days. That's because almost one out of 10 bridges in the United States has been declared structurally deficient. Not only that, the average age of bridges in this country is on the rise, meaning more are reaching the ends of their useful lives.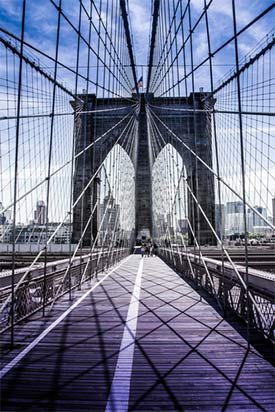 Every four years, the American Society of Civil Engineers releases its Report Card for America's Infrastructure. It grades the condition and performance of various aspects of America's infrastructure (everything from waterways to sewers to transit systems), assigning letter grades in the familiar model of a school report card. The group recently released its 2017 edition, and the news isn't good.
The report grades the country's overall infrastructure at D+, barely above failing. The nation's bridges eked out a C+ grade. Like a student that receives a C+, the infrastructure grade for bridges is based on some good factors and bad. Some regions of the country are doing a great job maintaining their bridges, while others are failing.
According to the report, there are more than 600,000 bridges in the U.S. Approximately 5,600 were structurally deficient in 2016. The study also states that 188 million vehicles cross deficient bridges on average every day.
Deficiency by the numbers
The American Road and Transportation Builder's Association (ARTBA) ran the numbers and discovered that if all the structurally deficient bridges in the U.S. were placed end to end, they would create a roadway that stretches more than 1,300 miles, roughly the distance from New York City to Miami.
The trade group additionally reports that approximately 1,900 of the deficient bridges are part of the nation's highway system. Bridges on highways tend to carry more heavy traffic than local spans.
More bad news: The average age of bridges in the U.S. is continuing to go up, and many of the bridges built during the nation's roadway building boom of the 1950s, '60s, and '70s are at or approaching the end of their useful lives. (Bridges of that era were designed with a 50- to 60-year life span.)
The American Society of Civil Engineers study reports that it would cost almost $125 billion to rebuild and rehabilitate all the bridges that need it. This isn't a new issue, and some progress has been made over the years. Still, the scope of the needed overhaul is vast and impacts drivers every single day.
The condition of bridges can vary dramatically by state. Only 1.6 percent of bridges in Nevada are structurally deficient, while 24.9 percent in Rhode Island are.
How does your state compare?
Structurally deficient bridges by state
| | | | |
| --- | --- | --- | --- |
| Lowest (by percent) | Lowest (by number) | Highest (by percent) | Highest (by number) |
| Nevada (1.6 percent) | District of Columbia (9) | Rhode Island (24.9 percent) | Iowa (4,968) |
| Texas (1.7 percent) | Nevada (31) | Iowa (20.5 percent) | Pennsylvania (4,506) |
| Florida (2.1 percent) | Delaware (43) | Pennsylvania (19.8 percent) | Oklahoma (3,460) |
| Arizona (2.6 percent) | Hawaii (64) | South Dakota (19.6 percent) | Missouri (3,195) |
| Utah (3.1 percent) | Utah (95) | West Virginia (17.3 percent) | Nebraska (2,361 |
What is a structurally deficient bridge, exactly?
A deficient bridge is one that has significant structural or maintenance issues that do not pose a risk to safety.
The term does not imply that a bridge is seriously unsafe or likely to collapse. It means that the structure has cracks, damage, wear, or other problems that if not monitored or fixed, could become worse and lead to failure in the future.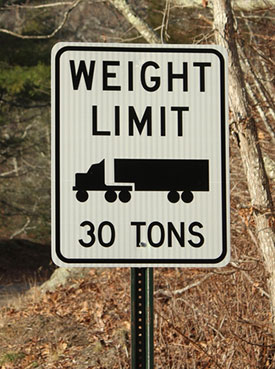 In most cases, structurally deficient bridges need significant rehabilitation or replacement to address the factors that make them deficient. They also tend to be inspected more frequently to look for safety issues that could result from structural and maintenance problems.
In order to stay open to traffic, many deficient bridges are posted with weight limits that help define the kind and amount of traffic that can cross them safely. If your vehicle — and the overall traffic on the bridge — is under the limit, you should be safe to cross.
Bridges are declared structurally deficient based on something called "general condition ratings." These ratings are part of the National Bridge Inspection Standards (NBIS). They're tracked in the National Bridge Inventory (NBI), a database compiled by the Federal Highway Administration.
The system rates bridges on their current condition compared to when they were new. Any bridge that is at least 20 feet long is required to be included in the rankings. (These are minimum standards. Some states choose to rate smaller structures.)
The ratings are based on the current condition of the following:
Materials
Deck (riding surface)
Superstructure (supports immediately beneath the driving surface)
Substructures (foundation and supporting posts and piers)
General condition ratings range from zero (failed condition) to nine (excellent). A bridge is considered deficient if any parts of it (deck, superstructure, and/or substructure) is rated four or less on that scale.
Many people, even bridge experts, confuse structurally deficient bridges with functionally obsolete ones. Obsolete ones are NOT automatically declared structurally deficient. They may simply have inadequate lane widths, shoulder space, or vertical clearances to serve current traffic demands. Some may flood on occasion, which affects traffic.
What can be done to "raise the grades"?
There are many things that could be done to improve the nation's bridge infrastructure so it can move from earning a barely respectable C+ grade to a B or even A — or to increase the ratings of individual bridges from a four or below to closer to a nine.
1. Governments everywhere, including the federal government, are acknowledging the need to commit dollars to improving and replacing structurally deficient bridges. If the Trump infrastructure plan makes it through Congress in the next few years, it could jumpstart the effort. In the meantime, states will need to take the lead.
2. As new bridges are developed, designers and engineers should avoid the mistake made during last century's roadway building boom. Bridges should be planned for a maximum possible life rather than the minimum 50 years. This will help avoid another bridge infrastructure crisis later this century.
3. As governments and other entities plan for bridges, they shouldn't just consider the cost of building them, they should also plan for maintenance costs as well. This will help avoid ongoing struggles to find funds to do standard inspections, maintenance, and repairs.
4. Bridge designers and engineers should incorporate sensors and other tracking mechanisms into new and renovated bridges. They can help uncover structural issues when they're minor and relatively easy and inexpensive to fix. A small investment in early prevention can save a lot on future repair costs.
Need help inspecting, rehabbing, or replacing structurally deficient bridges or the utility infrastructure suspended by them? An experienced supplier can answer your questions and provide advice. Find out how Bridgemasters could help.