Do you understand how using the right equipment can make challenging bridge inspection and maintenance projects easier — and safer — to do? Most people, even those who do bridge-related work every day, don't. 
Here are overviews of three recent bridge initiatives, including information about what made them particularly difficult to work on and how Bridge Masters stepped in to help. 
These tough projects demonstrate how having access to the right equipment could make doing your job easier.
Bridge Masters: Customized service for a valued client
The challenge: This bridge in Arizona spans a deep canyon. It has a sidewalk and a high curved fence that must be cleared to inspect the structure.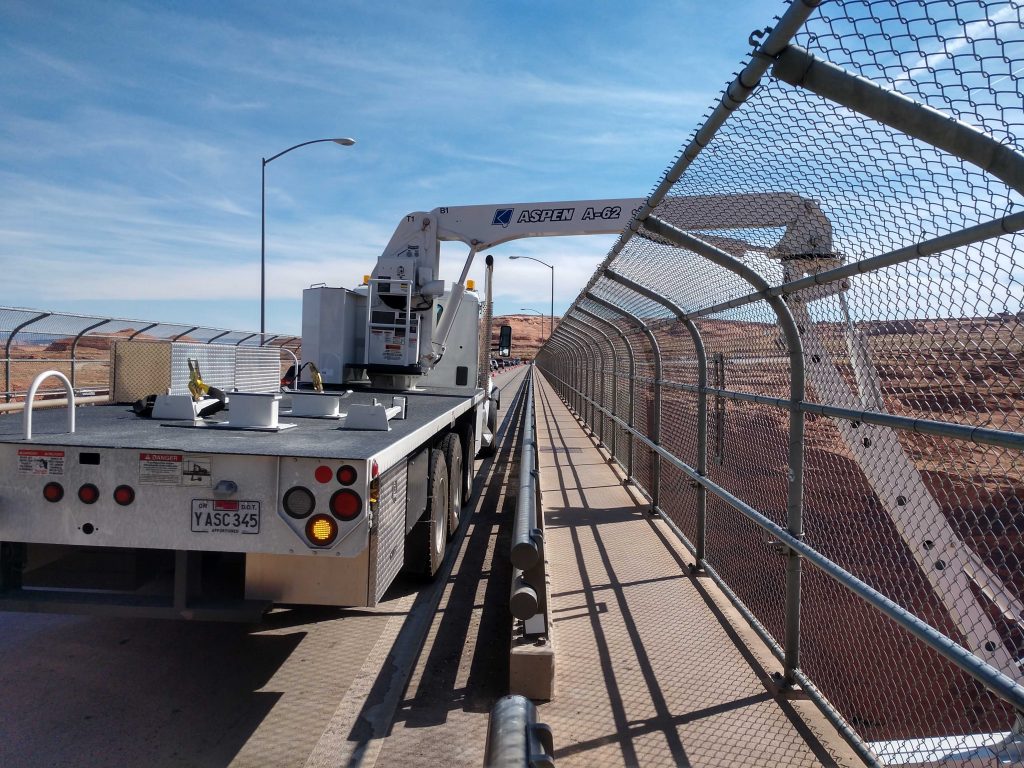 Added challenge: The viaduct also has a particularly deep lower truss system, making it impossible to reach all parts of the structure with machines. 
The solution: Bridge Masters leveraged the Aspen A-62 to give inspectors access to the under side of the bridge despite the challenging situation. Once there, they were able to safely use ropes and other equipment to climb and inspect the structure.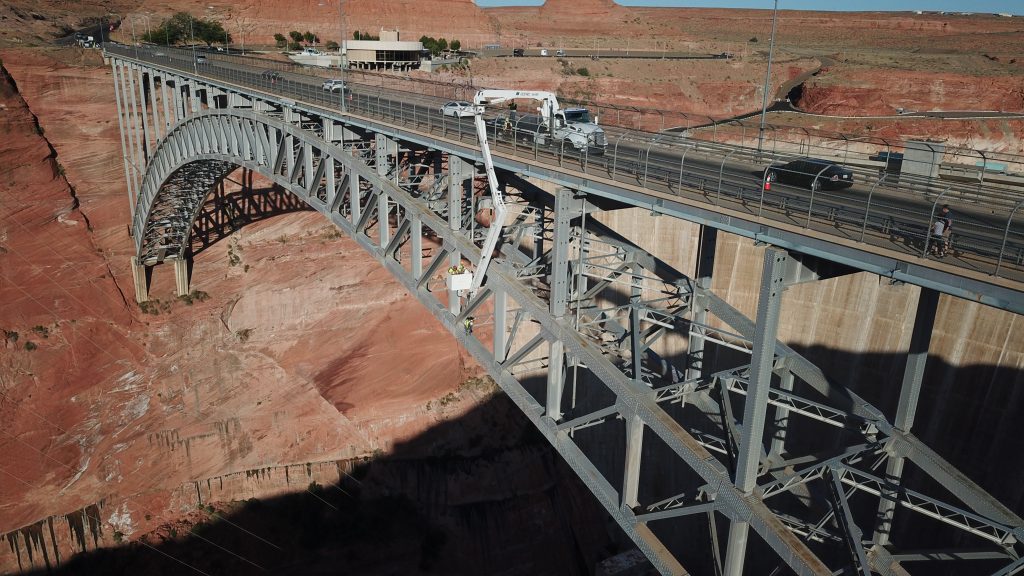 Did you know: This project is part of the Bridge Masters contract with the Arizona Department of Transportation? They inspect all bridges every two years. Bridge Masters spends two to three months each year working with engineering consultants to provide access to all areas of bridges.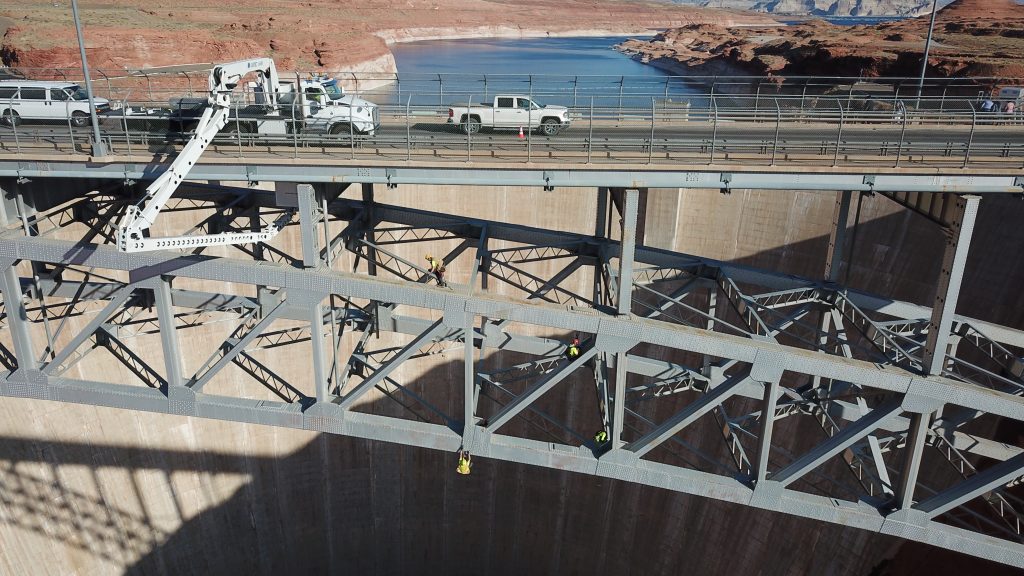 About the Aspen A-62
The Aspen A-62 is a maximum size, state of the art lift. It comes with an automatic leveling system, counterweight stabilizers and graphical interface terminal. It's able to reach 62 feet under bridges.
Advanced counterweight system.

The system automatically deploys to the opposite side of the extended crane during operation. It eliminates the need for outriggers.

Hi tech microprocessor control system.

The cutting-edge technology displays unit operation, performance and parameter information in a graphical, easy-to-understand way. It includes wireless controls at two stations.

Added features.

The Aspen A-62 comes complete with an on-board generator and compressor, along with a platform-accessed electrical outlet, heaters, floodlights, a remote control, 12-volt intercom and air lines.
Bridge Masters: It's not just for bridges anymore
The challenge: An engineering firm recently needed to conduct a structural inspection of a pier. They could not access the underside of the pier from water level. And because of the narrowness of the structure, it was impossible to use a typical lift.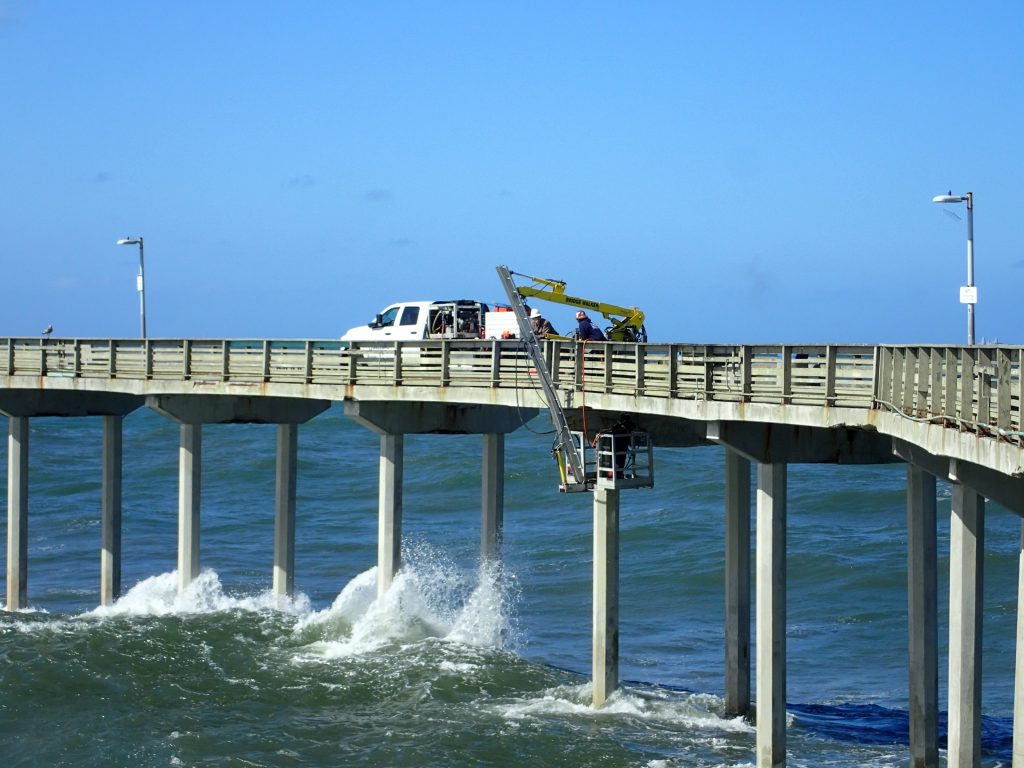 Added challenge: The pier had to stay open to visitors while the inspection was going on.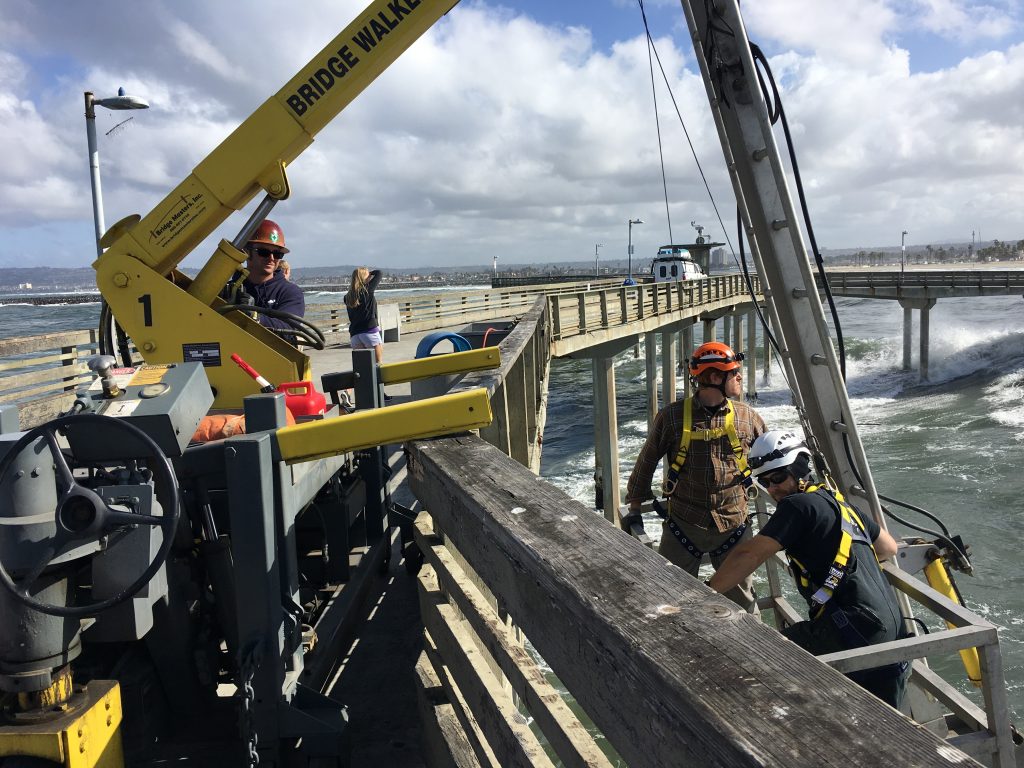 The solution: The small profile of the Bridgewalker Type I was perfect for this job. It provided safe access for inspectors to the underside of the structure, while keeping the pier open to visitors when work was going on.
About the Bridgewalker Type I:
The Bridgewalker Type I is designed to operate in tight spaces where other similar equipment is not able. It's the perfect solution for utility or inspection projects where space is limited. It can be used on a sidewalk and does not impact the flow of traffic. Depending on the situation, it can be operated from a trailer or as a stand-alone. 
Flexible.

The Bridgewalker Type I has a 600 pound basket capacity and is able to hold two people. The ladder length and configuration are adjustable to meet the needs of a wide array of bridges and work situations.

Operates on a sidewalk.

The Type I requires a three foot wide space to operate. It's self-propelled, making it easy to move when needed. It has a small profile, but still has an under-bridge payload capacity and capability comparable to much larger under bridge inspection equipment.

Developed and patented by Bridge Masters.

The Bridgewalker Type I was specifically designed to fit in spaces — and accomplish tasks — that no other equipment is able to handle. Even better: All components are manufactured in the United States.
Bridge Masters: Two solutions to a single problem
The challenge: There are weight restrictions when it comes to servicing this pedestrian bridge in Oregon and it's almost impossible to find lift equipment that it can support.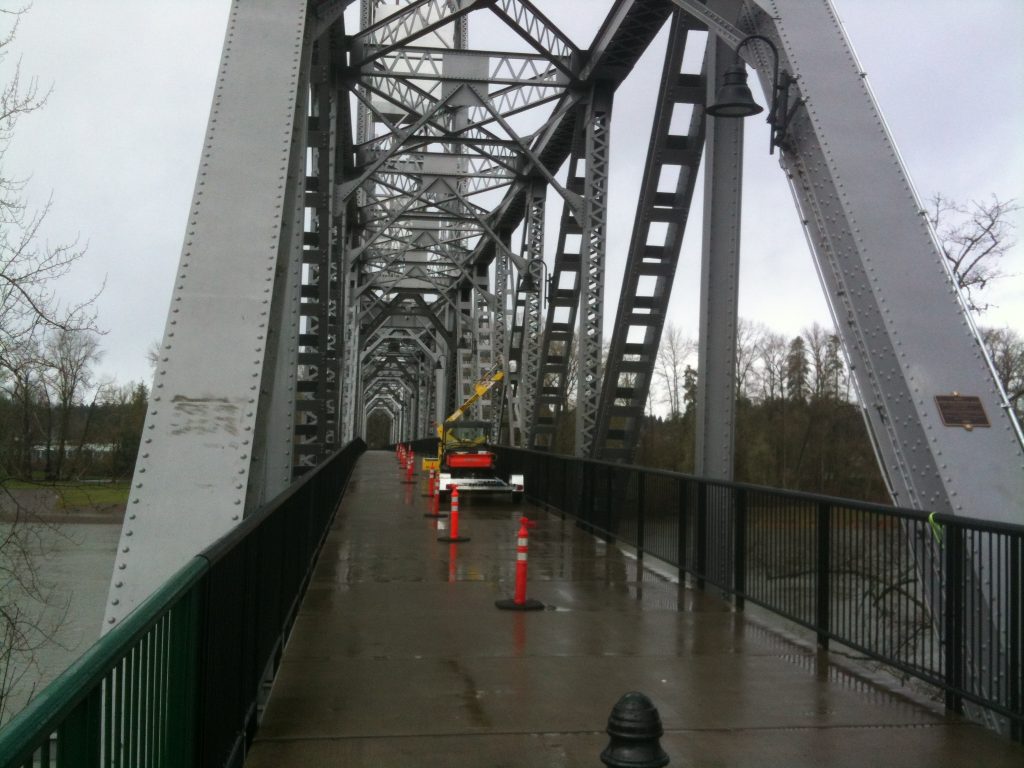 Added challenge: Because of the unusual design of the upper truss, it's difficult to get through the truss webbing to access the underside of the bridge.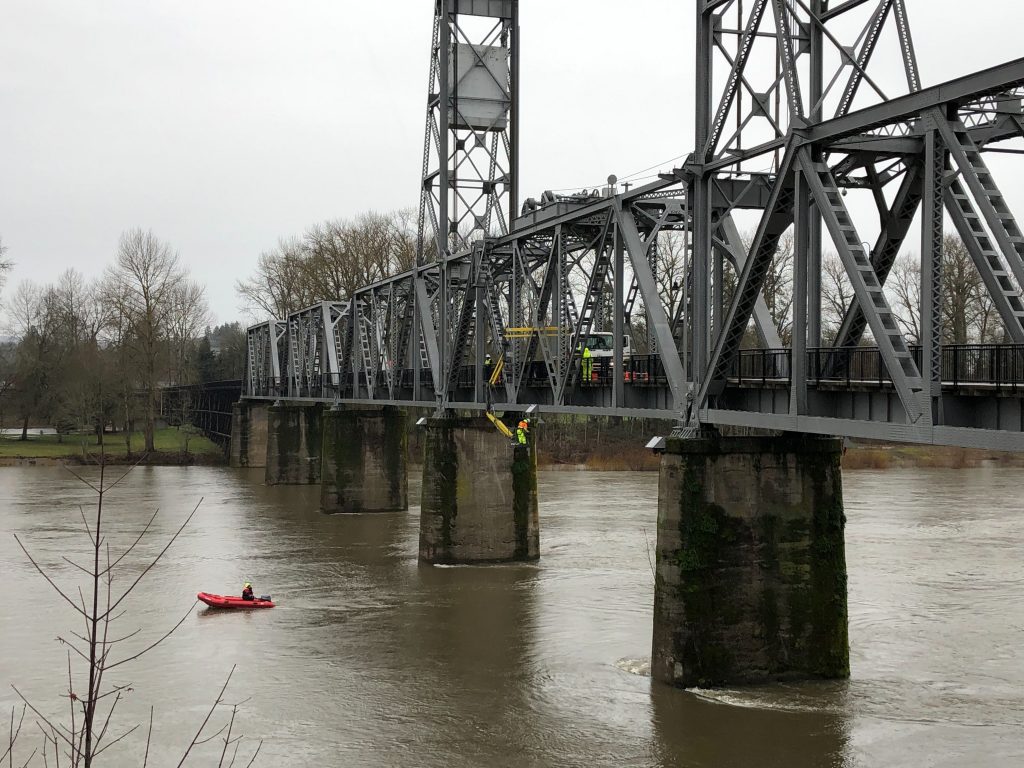 The solution: We use two separate units on this bridge. The Bridgewalker Type I is used for work that doesn't require accessing hard to reach sections. You can set the machine up and still allow for pedestrian traffic.
In other situations, we leverage our BMI 220. It provides the flexibility required to get through the webbing and reach difficult to access areas of the structure.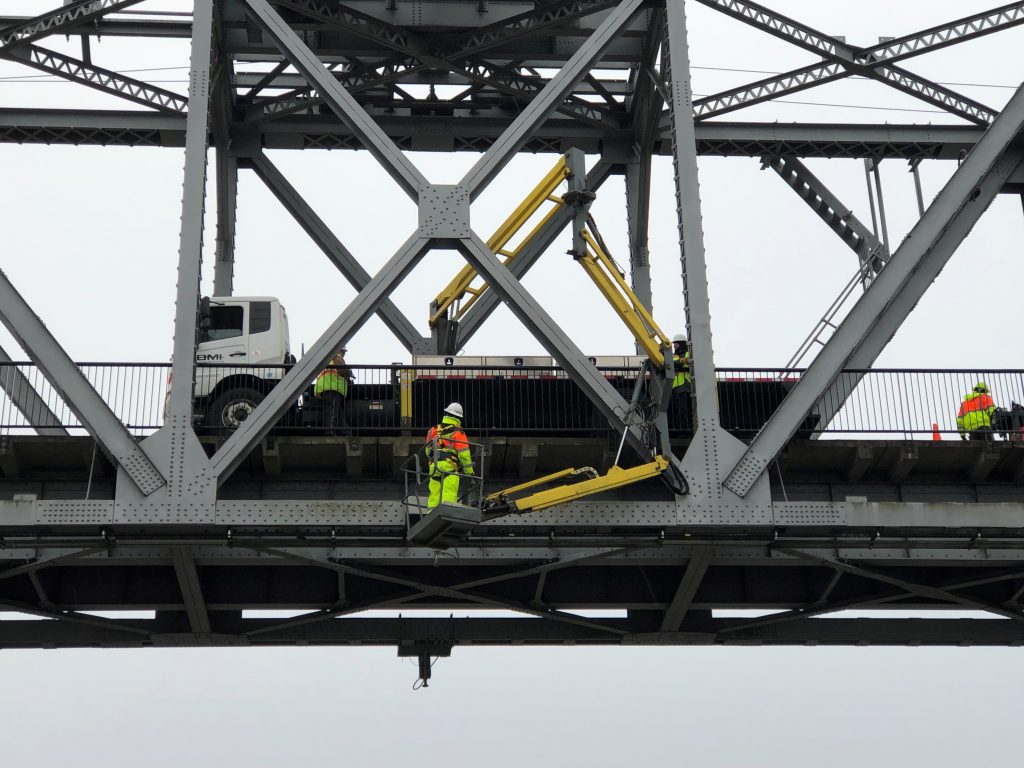 About the Bridge Masters UBIT (BMI 220)
The BMI 220 is a highly articulated unit that can position workers more than 26 feet below — and almost 20 feet under — bridge decks. It's a truck mounted bridge access machine specifically designed for inspection and installation services.
Independent controls.

The BMI-220 is designed with a fully proportional and independent electro-hydraulic boom control system. This supplies a broader range of control over each movement and helps increase accuracy.

Unique boom configuration.

The BMI-220 comes with three lift booms, two rotation controls and a telescopic retractable boom that makes it possible to reach awkward locations without having to move the truck.
Are you facing unique bridge access challenges? Contact Bridge Masters. We'll work with you to come up with creative solutions to get the job done.